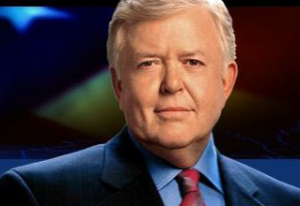 Mediaite hears the Fox Business Network is expected to announce this afternoon that Lou Dobbs will launch a new nightly show at 7pm on FBN starting March 14th. The launch marks Dobbs' return to cable news more than a year after his departure from CNN. Update – FBN has confirmed with press release (excerpted below.)
Dobbs signed a multi-year deal with Fox Business last fall, instantly becoming one of the network's biggest names:

"FOX Business has always been about putting the smartest, most interesting people on television and the addition of Lou Dobbs will serve to strengthen the best lineup in business news," said Kevin Magee, Executive Vice President of FOX Business Network.

"I'm excited and feel privileged to join the great team that Rupert Murdoch, Roger Ailes and Neil Cavuto have created, and I can't wait to make whatever contribution I can to FOX Business," Dobbs said in the release.
FBN is expected to reveal the name and format of Dobbs' new show as early as today. Putting the show on at 7 p.m. would make CNBC's The Kudlow Report its primary competition.
UPDATED: Fox Business has confirmed the new show, Lou Dobbs Tonight, will debut March 14 at 7 p.m., and focus on a breakdown of the day's top stories, with an emphasis on how those stories impact the economy. Dobbs will be joined weeknights by a variety of experts, and a "Lou Dobbs Moneyline" segment will highlight emerging financial trends and top market moves.
FBN executive vice president Kevin Magee says the FBN lineup will now feature Neil Cavuto at 6 p.m., followed by Dobbs at 7, Judge Andrew Napolitano at 8 and David Asman moving to 9. Eric Bolling's Follow the Money will appear weeknights at 10, with the exception of Thursdays, when John Stossel will take the hour.
Have a tip we should know? tips@mediaite.com