Lou Dobbs Rips 'Nixonian' Obama For Lying 'Through His Teeth' About IRS: 'President Who Has Lost His Way'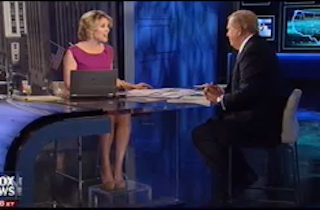 Fox Business Network host Lou Dobbs stopped by Megyn Kelly's show on Monday afternoon to offer his reaction to President Obama's press conference — during which he responded to the IRS scandal involving the agency's targeting politically conservative groups. Dobbs didn't take well to Obama's reaction and went after him for flat-out lying.
"What is outrageous is that the president of the United States this morning stands before the American people and lies through his teeth," Dobbs charged. "That is what is outrageous."
Kelly followed up, asking how exactly Obama was lying. Dobbs took issue with Obama's conditional statement — that the IRS' actions are outrageous if they're true.
"The president must have forgotten that the Internal Revenue Service took the extraordinary step last week and admitted doing these things and apologized for doing these things — and then this president…says that if they are found to have done these things, we will have to hold them accountable, as if that would not be his first and immediate and urgent action to take," Dobbs explained. "This is a president who has lost his way."
Kelly delved further into the IRS issue by also bringing up Benghazi and the general response we've gotten to many questions, which has been, "Well, we didn't know anything about this."
"Is anybody minding the shop?" she asked. "Somebody has got be paying attention."
The IRS scandal is much more serious that it appeared last week, Dobbs contended: "This is an agency with an enemies list. This is Nixonian. This is a president whose inner Nixon is being revealed. This is a government that is out of control."
To that point, Kelly reminded Dobbs that it's as yet unclear whether the issue is linked to Obama, but Dobbs argued that it is — because he's "responsible for the nomination and the actions of the" IRS. The agency doesn't exist independently.
Take a look, via Fox News:

Have a tip we should know? tips@mediaite.com