Louie Gohmert Defends Cutting Food Stamps: Not 'Evil' Because They're Just Wasted On 'King Crab Legs'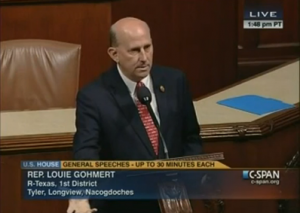 One of the biggest congressional fights over the farm bill that failed yesterday was a provision that would make significant cuts to the food stamp program. Today Texas Republican Louie Gohmert took to the House floor to shoot back at accusations that Republicans are "evil" for wanting to cut the program for the poor. Gohmert said his constituents have told him they've witnessed people on food stamps wasting them on expensive foods like king crab legs, so he just wants to cut the funds so they're not being wasted.
Gohmert described how his "broken-hearted" constituents unable to provide for their own families are witnessing what people on food stamps are buying, recounting what one person told him.
"I love crab legs. You know, the big king crab legs. I love those. But we haven't been able to have them in our house in who knows when. But I'm standing behind a guy, he has those in his bag, and I'm looking longingly like, 'When can I ever make enough where our family can get something like that?' and then sees the food stamp card pulled out."
He said that people who can't afford to buy king crab legs for themselves are paying for other people to be able to buy them instead. Gohmert expressed outrage with accusations from Democrats that Republicans are acting evil or trying to deny people the food they need, saying Congress needs to have the debate "without allegations of wanting to slap down or starve children."
Watch the video below, courtesy of C-SPAN:
h/t Raw Story
—–
Follow Josh Feldman on Twitter: @feldmaniac
Have a tip we should know? tips@mediaite.com
Josh Feldman - Senior Editor