Louie Gohmert Mocks Minority 'Civil Rights' Bill As Protecting Rights Of 'Lizards' And 'Prairie Chickens'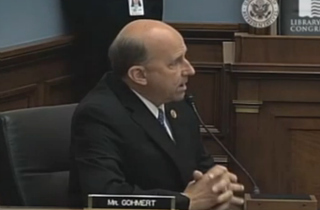 During a House debate Wednesday afternoon, Rep. Louie Gohmert (R-TX) mocked an Democratic-proposed amendment aimed at preventing discrimination against minorities as being concerned with protecting the rights of lizards, prairie chickens, small fish, and insects.
The House hearing discussed the Sunshine for Regulatory Decrees and Settlements Act, which contains provisions allowing anyone who believes their rights are affected by a federal decree to intervene as a third party in lawsuits challenging agencies for not taking regulatory action. House Democrats believe the bill could be used by Republicans to "prevent federal regulatory actions from being implemented."
As such, Rep. John Conyers (D-MI) and others proposed an amendment preventing such intervention in regulatory decrees that would act to prevent discrimination based on race, sex, faith, or national origin.
In response, Gohmert mocked the amendment, claiming that it had nothing to do with civil rights and more to do with allowing the smoother implementation of environmental regulations:
"There is nobody in this chamber who is more appreciative than I am for the gentleman from Tennessee and my friend from Michigan standing up for the rights of race, religion, national religion of the Delta Smelt, the snail darter, various lizards, the lesser prairie chicken, the greater sage grouts and so many other insects who would want someone standing for their religion, their race, their national origin and I think that's wonderful."
Rep. Jerrold Nadler (D-NY) fired back, defending his colleagues' proposal. "This is not a snail darter's amendment, it is not an environmental amendment," he said. "It is a civil rights amendment, and we're talking about the civil rights of people — the civil rights of people that have been violated egregiously for generations in this country."
The amendment ultimately failed to pass in a 13-to-16 vote.
Watch below, via Library of Congress:
[h/t
HuffPost
]
— —
>> Follow Andrew Kirell (@AndrewKirell) on Twitter
Have a tip we should know? tips@mediaite.com