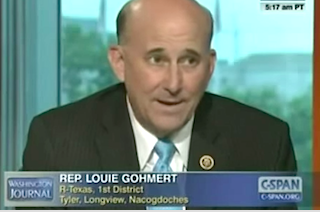 When Pope Francis I unveiled his latest encyclical that framed climate change as a moral issue that must be acknowledged and tackled head-on by Christians around the world, Catholic conservatives like Rick Santorum were quick to inform him he should "leave science to the scientists." Today, Rep. Louie Gohmert (R-TX) took things even further by saying the supposedly infallible religious leader is flat-out wrong when it comes to environmental science.
Gohmert immediately began laughing as C-SPAN's Greta Brawner began to ask him about the pope's position. "The trouble is that he has been persuaded that climate change is something that is dramatically affecting the planet right now, he's bought in to all this," the congressman said. While he insisted he has the "utmost respect" for Pope Francis, he also noted, "We have had popes that made enormous mistakes that were influenced by the world around them."
According to Gohmert, if the pope were to "objectively look at the data," he would see that the Earth is not actually warming at all. Asked who exactly "persuaded" the pope to make his pronouncement, he said it was "by the massive onslaught of media trying to convince the world that climate change is our leading problem, the president said it repeatedly. While he said, "it's wonderful if the pope listens to the words of the U.S. president," he decried the fact that scientists do not allow "opposing viewpoints" on this issue.
"Since when does science not allow opposing viewpoints?" he asked, rhetorically. "Well, they didn't allow Galileo to make an opposing viewpoint, there were a lot of accurate opposing viewpoints that were not allowed at the time that were later allowed to come in."
"And people wondered, 'How in the world did that whole group of educated people come to the wrong conclusion?'" he added.
As Gohmert failed to mention, in the case of Galileo it was the Church, not "science" that refused to allow his "opposing viewpoints" on the question of whether the Earth was at the center of the universe.
Watch video below, via C-SPAN:
[h/t Raw Story]
[Photo via screengrab]
— —
>> Follow Matt Wilstein (@TheMattWilstein) on Twitter
Have a tip we should know? tips@mediaite.com