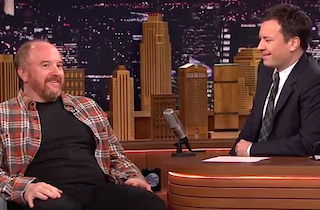 Before Louis C.K. was the most-respected stand-up comedian in the world, he was a writer for ABC's The Dana Carvey Show. And before Tonight Show host Jimmy Fallon was on Saturday Night Live he was a 22-year-old kid who desperately wanted to be on The Dana Carvey Show.
And while Fallon knew that his audition to join actors like Steve Carell and Stephen Colbert on that short-lived sketch series was ultimately unsuccessful, he never knew until last night just how much Louis C.K. was to blame.
After doing his impression of Fallon's audition, which consisted on singing goofy songs about Troll dolls and wiggling his butt, Louis C.K. admitted that while all the women on the staff wanted to hire him, he decided to put his foot down.
"I think I actually said I will quit the show if you hire that kid," Louis C.K. said. "Absolutely not. I was dead against you. Yes, because you had all your hair, you were in shape, a young kid and I was already kind of just sweaty and balding and I was depressed and it was just pure jealousy."
"This kid is really talented," he remembered thinking, "but I don't want to look at him everyday because it will make me upset about myself."
It's possible that The Dana Carvey Show would have run for more than just seven episodes with Fallon in the cast, as Louis C.K. suggested. But it's just as possible that he did Fallon an enormous favor by "torpedoing" his chances. Maybe Lorne Michaels wouldn't have wanted to hire that kid from Dana Carvey's failed sketch show, meaning Fallon would never have gone on to host Late Night or the Tonight Show.
After all, as we learned from SNL40, Stephen Colbert didn't make the cut.
Watch video below, via NBC:
[Photo via screengrab]
— —
>> Follow Matt Wilstein (@TheMattWilstein) on Twitter
Have a tip we should know? [email protected]