Low Blow: Rep. Michele Bachmann Goes After Obama For Illegal Immigrant Relatives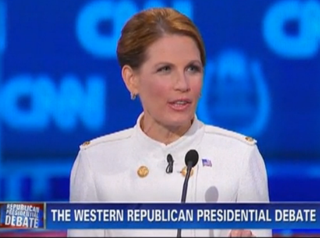 Tonight's red-hot Republican debate has so far delivered several soundbites per candidate (Jon Huntsman and Gary Johnson notwithstanding), mostly swiped at each other. But one candidate, Rep. Michele Bachmann, took a direct hit at President Obama– or rather, his family– in a personal and profoundly unnecessary hit for having family members with immigration status issues.
As moderator Anderson Cooper went around the group asking for solutions to the immigration problem and, namely, whether a fence or other exclusion apparatus would be an option they would entertain. When it came time for Rep. Bachmann to answer, she refused to attack the policies of any of the other candidates on the stage– this after a heated exchange between Rick Perry and Mitt Romney— instead turning to the real opponent of all the Republican candidates. "The person who really has a problem with illegal immigration is President Obama," she answered solemnly. "It's his uncle and aunt that have had immigration problems."
While it is true that the Obama family have had some issues with immigration, it is entirely unclear what that has to do with President Obama's policies, particularly since there is no indication that these family members have even spoken to the President in recent memory. Rep. Bachmann rounded out her answer by asserting that she would "build a double-walled fence with an area of security neutrality" and, in a policy point that seems impossible to constitutionally enforce, "I will enforce English as the official language of the government."
The answer went deeply personal on several levels– certainly, American born native Spanish speakers will not be too happy to hear that Rep. Bachmann essentially considers us illegal immigrants, since that's what the question is about– but going personal against the President during a debate where he has barely been mentioned shows a willingness to get down in the gutter that simply leaves a bad taste in the mouth of most moderate conservatives looking for a level-headed right-of-center candidate to vote for against the incumbent.
The segment via CNN below:

Have a tip we should know? tips@mediaite.com