Lowe's Pulls Ads From Muslim Reality Show After Complaints From Conservative Groups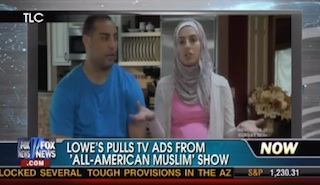 Here's a fun experiment. Let's find out what hurts a company more; advertising in front of a TV show that features Muslim people or cowardly kowtowing to bigots! That's the dilemma facing Lowe's who pulled their advertising from TLC's reality series All-American Muslim after getting pressure from the Florida Family Association, a racist, homophobic, and boycott-happy conservative group.
All-American Muslim is a reality series that depicts the life of five average Muslim families from Dearborn, Michigan, a suburb of Detroit. Lowe's pulled their ads after receiving letters from the FFA which included the following well thought out argument:
"The Learning Channel's new show All-American Muslim is propaganda clearly designed to counter legitimate and present-day concerns about many Muslims who are advancing Islamic fundamentalism and Sharia law. The show profiles only Muslims that appear to be ordinary folks while excluding many Islamic believers whose agenda poses a clear and present danger to liberties and traditional values that the majority of Americans cherish.

One of the most troubling scenes occurred at the introduction of the program when a Muslim police officer stated 'I really am American. No ifs and or buts about it.'

…

Clearly this program is attempting to manipulate Americans into ignoring the threat of jihad and to influence them to believe that being concerned about the jihad threat would somehow victimize these nice people in this show."
What the hell, TLC? How dare you not include a single beheading in your reality series? Not one of the episodes about typical American families included peeks into their secret terrorist sects! What are you trying to hide? As we all know, all Muslims are actually hate-filled monsters who use threats to try to force other people to think the way they do. Which, y'know, makes them totally different than the Florida Family Association.
After Lowe's pulled their ads and their decision was publicized, a firestorm has engulfed the company with a number of regular people, Congressmen, and celebrities lambasting their choice to side with the bigots. As such, the company was forced to issue a statement featuring a rather half-hearted apology on Sunday:
"'As you know, the TLC program All-American Muslim has become a lightning rod for people to voice complaints from a variety of perspectives – political, social and otherwise,' the company said. 'Following this development, dozens of companies removed their advertising from the program beginning in late November. Lowe's made the decision to discontinue our advertising on Dec. 5. As we shared yesterday, we have a strong commitment to diversity and inclusion, and we're proud of that longstanding commitment. If we have made anyone question that commitment, we apologize.'"
That's right! Dozens of other companies did it too! Man, I sure hope The Home Depot doesn't jump off a bridge of Lowe's will be in big trouble.
Oh, well. Hopefully the show will get canceled and so TLC will never be able to transmit Sharia Law through our TV sets. That would be terrible. Nothing would be worse than living in a country where religious extremists keep people from being free.
Watch a news report on the controversy from Fox News below:
Have a tip we should know? tips@mediaite.com