Lt. Col. Ralph Peters Goes Off On Media And Government's 'Rush To Condemn Troops' Over Photos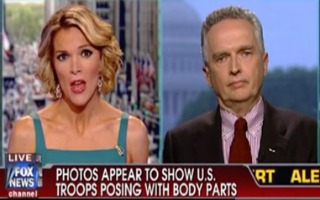 After White House condemnation of the L.A. Times for publishing photos of uniformed military posing with the bodies of suicide bombers, Fox News contributor and retired United States Army Lieutenant Colonel Ralph Peters described himself as "furious" at the L.A. Times and the civilian military leadership for their handling of the nascent scandal. Peters told Megyn Kelly this controversy was an example of the "moral cowardice of military leaders who never stick up for our troops but protect their own careers."
RELATED: Carney: Obama Admin. 'Disappointed' In LA Times For Publishing Soldiers Posing With Afghan Corpses
White House Press Secretary Jay Carney said on Wednesday that the White House was "very disappointed" that those photos were published. Defense Sec. Leon Panetta weighed in as well, saying that he "strongly condemned" the behavior depicted in the photos.
Kelly said that the Pentagon had requested that the L.A. Times not run the photos and Kelly herself said her program chose not to air the inflammatory images. "There are fresh concerns that these pictures, just published, could fuel a new wave of anger on the streets of Afghanistan and could endanger American lives," said Kelly.
Kelly asked Lt. Col. Peters what his take on the controversy was, and Peter's said that he believed the L.A. Times was complicit in a "terrible scandal here," but that scandal has "nothing to do with our troops in combat."
"No terrorists were harmed in the taking of those snap shots," said Peters. "The real scandal is that the L.A. Times, desperate to survive, creates a scandal, publishes those pictures over the Pentagon's objections. The real scandal is that the establishment media leaps on another chance to trash our troops. The worst of the scandal is that our leaders, in and out of uniform, rush to condemn our troops – no explanation, no context."
"I suggest the White House spokesman Jay Carney join the military and see what it's like himself before he condemns our troops," Peters continued. "I'm especially appalled that those in uniform, General [John R.] Allen, our commander in Afghanistan, just jumped to trash our troops."
"The Greatest Generation sent Japanese skulls home to their girlfriends," said Peters. "I'm not condoning it, but I'm trying to make the point that our soldiers out on the front line and our marines are under tremendous stresses. War is not a ladies auxiliary tea party, and it's all too easy for people comfortable in Los Angeles, or New York or the White House to condemn the troops without context."
Peters said that there should have been a formal reprimand for the soldiers in question but little else. He went on to criticize the impact that this budding scandal has already had on the civilian leaders of the military as a sign that the mission in Afghanistan is poorly defined.
"If our strategy and doctrine is so pathetically weak that it can be derailed, destroyed, shattered, by a few burning Koreans or a few photographs – the dead body parts of terrorists – well that's not much of a strategy or doctrine," said Peters. He became visibly agitated and said that he was "furious" at the "moral cowardice of military leaders who never stick up for our troops but protect their own careers."
Watch the 'furious' exchange below via Fox News Channel:
Have a tip we should know? tips@mediaite.com