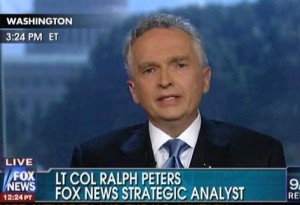 Fox News contributor and former Army Lt. Col. Ralph Peters expressed his hope on Fox News today that people would not give in to "scaremongering" and stop "seeing al-Qaeda under every prayer rug and be proud."
Host Megyn Kelly cited a recent column by Charles Krauthammer arguing that al-Qaeda has been weakened because of the "massive and unrelenting war on terror." Peters agreed, citing Krauthammer as "the greatest political columnist we've ever had in this country," and stated that since 9/11, the United States has had "a really good decade" against al-Qaeda.
Peters also acknowledged that the tide is turning against al-Qaeda in the Middle East, and stressed the importance of continuing the war against terrorism. Kelly cited a call Peters made to stop "scaremongering," and Peters explained that while al-Qaeda is a threat that he has personally taken seriously "a long time before anybody else did," but Americans should have a good sense of perspective when it comes to terrorism.
You've got to be balanced and objective. The threat is still there, but it is not the threat of 9/11. al-Qaeda's a broken-back snake. It's still got poison in its fangs, but we… our men and women in uniform, our intelligence community, and the feds, the much-abused feds, have done a stunningly effective job in the last ten years, and I think it's time to stop whining and fearing and seeing al-Qaeda under every prayer rug and be proud.
Watch the video below, courtesy of Fox News:
Have a tip we should know? tips@mediaite.com
Josh Feldman - Senior Editor