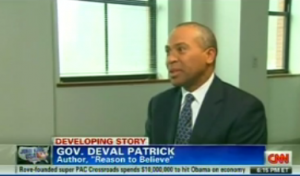 CNN's John King sat down with Massachusetts Governor Deval Patrick to discuss Bain Capital and serving in the office Mitt Romney once held. Patrick, "an enthusiastic supporter" of President Barack Obama, staunchly maintained that Bain is fair game — but, as other Democrats have recently, refused to full on attack the company.
King pointed out that Patrick is the governor of state that Bain Capital "calls its global home." He asked, is it a bad company? "They're not a bad company, nobody is saying they are, including the president," Patrick replied.
Accusing Republicans of changing the subject, Patrick said, "This is not about Bain. It's not about private equity in general. It's about a guy who is holding himself out to be a job creator, whose record is fair game at doing that." While Romney was governor, he said, the state was 47th in the nation in job creation — now it's in the top 10. His one major reform ("a profoundly important thing"), health care, is one thing Romney refuses to talk about, he said.
The question, he said, it about Romney's preparation, experience and empathy. Patrick went on:
It's not about whether Bain is good or bad. I have friends at Bain. I have people who supported the other candidate in my own campaign, so I respect what Bain does, and its role in the free market system, but we need somebody who understands that there are multiple bottom lines and that's what we have in President Obama.
Asked about serving in the office Romney once held, Patrick said "a number of people" have encouraged him to "hammer away" at his predecessor, but that won't be happening. "[Romney's[ always been a gentleman to me, and I don't like that kind of politics," he said. "But I do think that his record in his one episode in public life is fair game, and it's a record that does not support what he's holding himself out to be."
So, King asked, what is and isn't fair game when it comes to Bain? Patrick said he's not among those who thing the whole idea of private equity is bad. The bad parts of Bain's record (as we've seen in Obama's ads) don't mean "there's something wrong with that dimension of private equity in some absolute sense, but it does mean that what is being represented as a capability of the Republican nominee is undermined by the facts."
Ending the segment, King asked Patrick whether he has set his sights on the White House in 2016 — a question Patrick said he's not stranger to, insisting he's not interested.
Take a look, via CNN:

(H/T Free Beacon)
Have a tip we should know? tips@mediaite.com