Macy's CEO Not Sure If Calm Black Friday Stores Due To 'The Crowd That We Attract'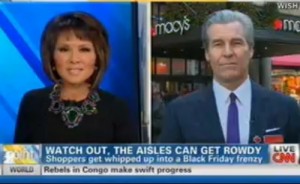 It's Black Friday, which means two things for cable news: an endless loop of unhinged shopper b-roll, and segment after segment of infomercials masquerading as retail executive "interviews" (with occasional real news mixed in). On CNN's Starting Point Friday morning, anchor Alina Cho interviewed Macy's CEO Terry Lundgren on such hard-hitting topics as "What are some of your best deals at Macy's this holiday season," but when she asked Lundgren about some of the misbehavior at retail stores on Black Friday, his response seemed to be a backhanded shot at customers of retailers who fallute at a lower altitude than Macy's.
"So, let's talk a little bit about some of the problems we've seen over the years," Cho said. "Stampedes. You've seen the videos. Stampedes and near violence at a store in Sacramento we've been talking about," a reference to the man who told customers at a Sacramento Kmart to "Calm the f%#k down! Push one of my kids and I will stab one of you motherf%@kers!"
"Any problems at any of your Macy's stores across the country?" Cho asked.
"We haven't had any problems," Lundgren responded, adding "I don't know what that means exactly in terms of the crowd that we attract."
Attention Kmart shoppers: there's a blue-light special on your overall character at the end of aisle 6.
Lundgren continued by identifying what's likely the real difference between high-end retailers like Macy's and the big-box store that have experienced difficulties. "I can tell you that we work very hard at this," he said. "We're prepared for this."
Many of the problems on Black Friday over the years can be traced, at least partly, to poor preparation on the part of the retailers, or even an encouragement of the type of crowds and atmosphere that lead to things like riots and stampedes. It's not so much the "crowd you attract" as it is how you treat that crowd once you've attracted them. In most of the never-ending series of retailer interviews you'll see this weekend, they will explain how they have learned from Black Fridays past, and prepared for a much more organized shopping experience.
Here's the clip, from CNN's Starting Point:
Follow Tommy Christopher (@TommyXtopher) on Twitter.
Have a tip we should know? tips@mediaite.com