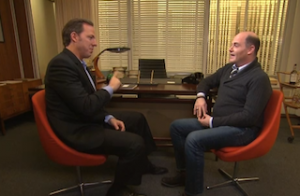 Before AMC's Mad Men begins its highly-anticipated sixth season this Sunday, creator Matthew Weiner sat down with Jake Tapper on CNN's The Lead for a spoiler-free discussion about the show's future. But in this "web exclusive" Tapper asked about a tiny moment from last season that ended up having loud echoes in the political sphere. Some conservatives, including Mitt Romney's son Tagg were not happy when the character Henry Francis casually called the late Governor George Romney a "clown" during an episode set in 1966.
Tapper said that while it "makes sense" in a historical context that Francis, who worked for New York City Mayor John Lindsay in the show, would not be a fan of George Romney, he can understand why members of the Romney family would be upset. He wanted to know what Weiner thought of this tweet sent out by Tagg Romney after the scene aired: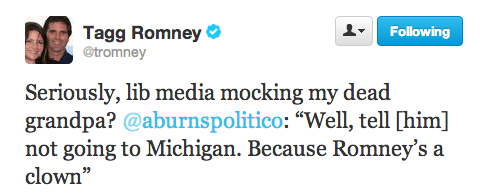 After saying he hears that "conservatives love the show," Weiner said that "there's not one modern Republican who should not be thrilled at the archeology I've done on the Republican Party in this show." He added that he has featured "a whole bunch of very interested, fair-minded, non-prejudiced, economically-interested do-gooders that disappeared from the Republican Party" on the show. "And they should be grateful that anyone could even see that humane part of politics from that era."
On the Romney reference specifically, Weiner said he wanted to "remind people that George Romney had run for office" and realize that nearly half a century later "nothing had changed." He did offer an apology to Tagg Romney, saying, "I have grandparents also and I did not mean it as a personal attack," but he thought that as a "public figure," George Romney was fair game.
Mad Men's sixth season brings the show into the late 60's so perhaps we can expect a grandchild of Richard Nixon to be offended next.
Watch video below, via CNN:
—
>> Follow Matt Wilstein (@TheMattWilstein) on Twitter
Have a tip we should know? tips@mediaite.com