Maddow Accuses Fox News Of Ginning Up Anti-Obama Scandal With Disregard To Facts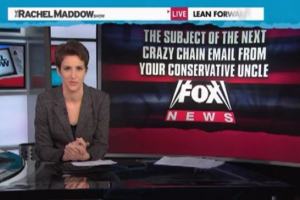 Rachel Maddow took on Fox News on Tuesday night for promoting a story about President Barack Obama having a sort of enemies list with which he's targeted private citizens. Specifically, related to one Frank Vandersloot who's been on Fox recently, discussing how the Obama campaign's mention on him in a blog post has essentially smeared him, affecting his business. Vandersloot is also Mitt Romney's national finance co-chair.
The story originated with a blog post on the Obama campaign's Keeping GOP Honest website. The post, entitled "Behind the curtain: A brief history of Romney's donors," listed seven donors, including Frank Vandersloot, who was noted as being "a bitter foe of the gay rights movement."
Maddow noted that Vandersloot has said his business has suffered following this attack on him — and that Fox News is simply trying to gin up a scandal that portrays the president in a bad light. The message the network is trying to send, she said, is "Private citizens, if you donate to the Mitt Romney campaign, the president of the United States is coming after you."
Fox has done five segments on the story, three of which Vandersloot was part of, Maddow noted. Yet this attack isn't solid on more levels than one, she said. First of all, Vandersloot is a Romney campaign official, which makes him a public figure. But Fox was so excited to have a possible Obama scandal, she said, that they rushed to run the story before fully understanding it.
Maddow recalled that she did a segment with Vandersloot back when he was opposing a documentary about homosexuality, arguing that it has no place in the classroom. It's not a smear, Maddow said, because his thoughts about gay rights are on record. In the past, he'd given Maddow a statement saying he supports equal rights but doesn't support sexual concepts introduced to young students.
Furthermore, Maddow played a Fox segment that mixed Vandersloot up with the Wall Street Journal's Kimberley Strassel. The segment portrayed Strassel as the victim of the smear, when in fact, she'd simply written a column about Vandersloot.
Not stopping there, Maddow moved on to Vandersloot himself — who Fox is referring to as a target of "political terrorism" — and accused him of rewriting history. Since this story has been circulating on Fox, Vandersloot has been saying he's seen the negative effects on his business following mention of him on the Obama campaign's blog.
Maddow contradicted that. Following her story about him in March, she said, Vandersloot sent her an angry letter in which he said her reporting was inaccurate and that the story had negatively affected his business. That was far before the Obama campaign had mentioned him in April, Maddow observed, adding that he'd essentially made the same complaints months ago.
Maddow invited Vandersloot on the show, but received a response that said she knowingly spread false information about him. Later, he agreed to possibly phone in. Welcoming confrontation, Maddow challenged Vandersloot to come on the show and explain what she's reported incorrectly.
So this story is possibly to be continued (and if it sounds convoluted and a little confusing, well, it is).
Take a look, via MSNBC:

Have a tip we should know? tips@mediaite.com