Maddow Accuses Priebus Of Intentionally Killing 'Fantasyland' CPAC With GOP 'Autopsy' Report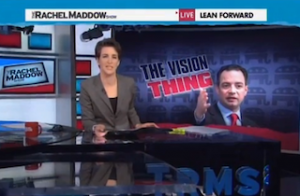 Rachel Maddow has a theory about why RNC chair Reince Priebus decided to release his "autopsy report" for the GOP less than 48 hours after the Conservative Political Action Conference concluded. As she explained on her show Monday night, she thinks Priebus to pretend CPAC never happened.
Maddow characterized CPAC as nothing more than a "headline generator" or "cable news chum." It's fun for the media cover but it's "not a place where ideas get launched." When the headlines generated by the conference painted the picture of a proud "wacko bird" party that's at war with itself and is sure it's not racist despite some vocal white nationalists, Priebus decided it was time to change the subject.
"The Republican National Committee stamped any glowing embers of CPAC news," Maddow said, "by releasing to the public its party-wide postmortem on why they lost the 2012 election." And Maddow suspects that Priebus did this on purpose because "that of course gave everybody a new story to talk about in Republican politics instead of the CPAC craziness."
Maddow agreed with Ben Smith's assessment on BuzzFeed that Priebus' autopsy report consisted of a revival of the old "compassionate conservatism" strategy that propelled President George W. Bush's 2000 campaign and was abandoned shortly after he was elected. But she questioned how the party will be able to pull off such a reversal over a decade later. "How can you earn an image change like that without actually changing any of your policies that earned you the image you now want changed?"
Watch video below, via MSNBC:
—
>> Follow Matt Wilstein (@TheMattWilstein) on Twitter
Have a tip we should know? tips@mediaite.com