Maddow: America's National Security Policy 'Defined' by What George W. Bush Did in Iraq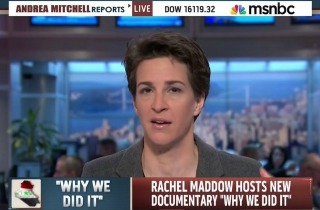 In a preview for her latest documentary on the lead-up to the Iraq War, MSNBC host Rachel Maddow told her colleague Andrea Mitchell on Monday that the subject of her film clearly relates to the geopolitical events of today. American national security policy and response to the crises in Ukraine and Syria were, she said, "defined by what the George W. Bush administration" did in the Middle East.

"The question is the most important part," Maddow told Mitchell. "The decisions of our generation on national security are determined more than anything by what the George W. Bush administration did with that 9-year war in Iraq and, alongside it, a 13-year war in Afghanistan that's still going on."
"Those are the determinative constraints for our thinking about everything," she continued, "from Crimea, to Syria, to what the overall size of the U.S. military is."
"If we want to avoid having this kind of protracted foreign occupations, like we did under the previous president, we can't effectively make good decisions about that until we understand why we did that," Maddow concluded.
RELATED: Flashback: In Russia, Obama Declared 'Great Power Conflict' a Thing of the Past
Mitchell agreed with Maddow's assessment. "It has an impact on every other decision we make," she said. "Why the president decided not to go ahead with air strikes against Bashar al-Assad on Labor Day weekend."
"And that, some would argue, not me, but some of the critics are saying that has influenced the way how foreign leader and [Russian President Vladimir] Putin view him," Mitchell concluded.
Watch the clip below via MSNBC:
[Photo via screen grab ]
— —
> >Follow Noah Rothman (@NoahCRothman) on Twitter
Have a tip we should know? tips@mediaite.com