Maddow And Ellen Take On GOP's Gay Marriage Problem, Romney's Debate Win, And Jersey Shore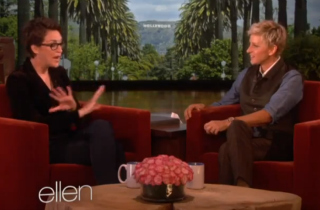 MSNBC host Rachel Maddow made an appearance on Ellen DeGeneres' daytime talk show to dance and talk politics.
"I'm not a very good dancer," Maddow told DeGeneres, whose guests frequently dance their way onto the set.
The progressive host told DeGeneres that presidential elections are like a major holiday for her: "Imagine that Christmas happened only once every four years in your life, then you would be a pundit. Ah! Four years! Here it is!"
Maddow then emphasized that the debates are her favorite part of the election cycle because of the competition between ideas, adding that it's like "democracy Christmas, I love it."
DeGeneres asked Maddow for her thoughts on the first debate. The MSNBC commentator reiterated that "Romney won," noting that it's actually "not that weird" considering how incumbent presidents never debate during their terms and may become a little "rusty" at that sort of competitive art.
Maddow expressed giddy excitement for tonight's vice presidential debate between VP Joe Biden and Republican VP candidate Paul Ryan, noting that Biden is the best "unscripted TV."
Asked about President Obama's newfound support for gay marriage, Maddow noted that both Romney and Ryan are "absolutists" in their "anti-gay" positions on marriage, and the Republican Party as a whole is experiencing a crisis as the rest of the country moves toward accepting same-sex couples.
"If they're going to start competing for the public's affections," she noted, "they're going to have to compete for who is more tolerant and accepting."
DeGeneres then asked if Maddow ever turns off from her love of politics and focuses on leisure activities. The highly-political news anchor admitted to coming home and watching MTV's Jersey Shore reality program.
"I have to say this season is a little disappointing," lamented Maddow. "I mean, if you like Jersey Shore, you're not there to see The Situation get his life together with a sober coach."
"You're not there for models of personal responsibility," she joked, "I'm not there to see improvement."
DeGeneres then asked Maddow to react with one word to various cultural phenomena like Clint Eastwood's empty-chair RNC speech ("lonely") or Prince Harry ("hunky"), ultimately ending on the Korean import dance craze called Gangnam style.
"Do you know the dance?" DeGeneres asked.
Maddow apparently did, performing a tiny bit of the dance in her seat.
Watch the segment below:

[h/t HuffPost]
— —
>> Follow Andrew Kirell (@AndrewKirell) on Twitter
Have a tip we should know? tips@mediaite.com