Maddow And Sen. James Inhofe Have Tense Exchange Over His Ties To Ugandan Anti-Gay Bill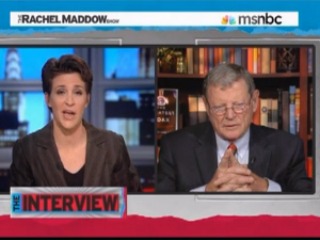 On Thursday, Rachel Maddow invited Senator Jim Inhofe onto her show to discuss The Great Hoax, his new book on climate change.
The lengthy interview took a particularly tense turn during its second half, when Maddow confronted Inhofe over something he'd written about her in his book. "In a couple sections," she told him, "you talk about me mentioning you on the show. You specifically called me out on a show I did December 3, 2009. Did you actually watch that show?"
At first, Inhofe didn't seem to know what Maddow was referring to, leading her to play a clip from the episode he'd criticized.
RELATED: Robert F. Kennedy Jr. Calls Sen. Inhofe 'Big Oil's Top Call Girl'
"You made it seem in your book," Maddow said, "[that] I went after you because you had just gone to the Copenhagen Summit. That's not what i was talking about on the show that day." Instead, as she showed, she'd been discussing Inhofe's ties to a group working in Uganda that had introduced a piece of legislation attempting to "tackle the AIDS problem in that country and the problem of homosexuality all at once," by calling for the execution of gay individuals in that nation.
"Are you saying," Inhofe asked, "are you suggesting, Rachel — and, I mean, I want to make sure that everyone understands this — that I am for executing gays? That I somehow knew something about what their philosophy is or whether what they're doing legislatively… I know Uganda. I know Ethiopia. I know Ghana. I know Benin. I know Africa, probably better than anyone else, certainly in the United States Senate. I've spent a lot of time over there, I've developed close relations over there. And when 9/11 happened, since I was the only member of the Armed Services Committee who knew where Africa was, that we were making a decision then to get into Africa to help train them, to help resist all these things that are coming into the country, into the continent, that's what I did. So I do know Africa well."
"As far as Doug Coe is concerned…" he continued. "You know, I think… You hear about persecution for the sake of righteousness, I can't think of a better example. I wish you knew Doug Coe. I've never met anyone in my life that just loves everyone. You know, and I see him persecuted and my heart bleeds for him."
Maddow gave Inhofe more information about the bill and the group behind it via a New York Times article as Inhofe maintained that he didn't know to whom she was referring.
"I don't have any idea who you're talking about," he said. "And I certainly don't have any idea on these accusations of executing gays. Let's talk about the book or let's talk about something to do with global warming instead of getting you off on these hysterical things."
"Certainly, sir, this isn't hysterical," Maddow replied. "This is the context in which you brought me up in your book, totally out of context! And so I'm trying to address something that's wrong in your book."
Inhofe then changed the subject to his daughter's passage about igloos and an anecdote about his granddaughter being brainwashed on the topic of global warming.
Watch, via MSNBC:
Have a tip we should know? tips@mediaite.com