Maddow Blasts Rick Perry's Bill To Save 'Merry Christmas' In Texas: 'Christmas Is Merrily, Rick Perryily Protected'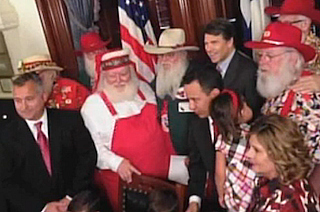 "Thanks to Governor Perry, it's not illegal to say Merry Christmas," Rachel Maddow said at the start of her show Friday night. "Was it ever illegal to say Merry Christmas in Texas? You know, you never can be too careful, but saying Merry Christmas is now doubly, triply, merrily, Rick Perryily protected in Texas."
Perry signed the bill surrounded by Santa Clauses—in the midst of vetoing about two dozen other bills, including an Equal Pay Act for women.
"The secret illegal nature of Christmas is a big Rick Perry idea in politics," Maddow said. "You may remember when he was running for president he tried to make one of the central issues of his campaign the fact he had led the fight to keep Christmas from being illegal in Texas. And he would lead that fight nationally against President Obama, he wasn't afraid! President Obama may want to make Christmas illegal and ban Christianity, but Rick Perry has Santa on his side."
Maddow played Perry's awkward campaign video from the 2012 GOP primary, in which Perry spoke vehemently about how "there's something wrong in our country when gays can serve openly in the military but our kids can't pray in school"—while wearing Ennis's jacket from Brokeback Mountain.
"He will, in his barn coat, protect you from homosexuals," Maddow said. "That was how Rick Perry ran for president the first time. And, presumably, that is how he is going to run for president the second time."
Watch the segment here, via MSNBC:
—
>> Follow Evan McMurry (@evanmcmurry) on Twitter
Have a tip we should know? tips@mediaite.com