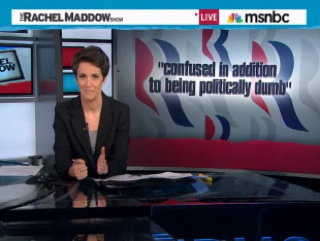 Mitt Romney and his campaign seem to be having a bit of a hard time with the health care debate, since the individual mandate the Supreme Court upheld, much to the chagrin of many conservatives, is one a Governor Mitt Romney also implemented in Massachusetts. During his first run for president in 2008, Romney faced a stiff challenge on this question from, of all people, Fred Thompson, and that challenge, Rachel Maddow argued tonight, was proof that nearly anyone in the Republican Party was aware of how problematic a candidate Romney would be.

RELATED: Maddow Tears Into Scott Brown For 'Making Stuff Up' About Her And MSNBC
Maddow began her segment with a refresher on the 2008 Republican primary, and the bizarre "pundit mania over the prospects of Fred Thompson… based greatly on what he looked like [and his] big great voice." He was pretty terrible at everything, she explained, and "things went very wrong very fast." But one thing he did manage to do, besides occasionally use his "folksiness" to win points in the polls, was manage to pin Romney on the mandate issue. Maddow played a clip of a 2008 primary debate highlighting precisely that.
"As a candidate in the 2008 campaign, you heard Mitt Romney there saying what he did in his state was impose a mandate… and described the way you impose that mandate as a tax." Now, Maddow argued, this exact idea is, to Romney, "the main reason you should vote against Obama as president." The campaign, Maddow noted, was a "totally incoherent mess over this right now," so much so that "the right is freaking out," the Wall Street Journal is on the attack, and "a whole bunch of people [are] telling him to fire his senior staff." Maddow didn't think that would solve anything though, since "the piece of legislation [is] so closely associated with him with him that he put it in his oil portrait they hung in the Massachusetts statehouse." That, she concluded, was the "inescapable, irreversible flaw in his candidacy."
The segment via MSNBC below:



—–
» Follow Frances Martel on Twitter
Have a tip we should know? tips@mediaite.com