Maddow Blasts Romney's 'Truthfulness Problem,' David Brooks Calls 2012 'Worst Campaign I've Ever Covered'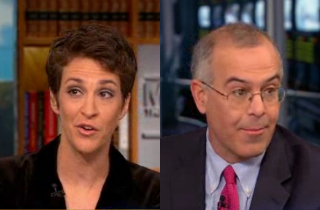 On today's edition of NBC's Meet the Press, MSNBC host Rachel Maddow blasted what she called GOP presidential candidate Mitt Romney's "truthfulness problem," former GOP Senate candidate Carly Fiorina focused on what she sees as a "trust issue" with President Barack Obama, and moderate Republican columnist David Brooks lamented that this has been the worst presidential campaign season he has ever covered.
"On the trust issue, Romney went to Defiance, Ohio and told a group of 11,000 people, 'Jeep is about to move all of their production overseas. I read that somewhere.' Not at all true. It's okay for a candidate to make a flub, but not to correct it, to not say I was wrong about that?" Maddow said. "There's been a truthfulness problem with the Romney campaign that connects even to the most basic issues like the economy in the states where it matters most."
Former Hewlett-Packard CEO Fiorina disagreed: "That important state [of Ohio] has a Republican governor that's done the opposite of what obama claims he's going to do. He's lowered taxes and closed budget deficits," she said, before continuing on to blast the Obama camp for what she perceives as deception in response to the Libya consulate attacks.
"I think it's been the worst campaign I have ever covered," lamented Brooks. "They are both ending where they started. Obama is doing a negative campaign…. it's almost pure negativity. Romney is trying to appeal to moderates and women, which is a bipartisan ad… it's not who he is or what his policies are. He has shape-shifted. I regard it as a campaign that has not addressed any of the fundamental issues. They are finishing as badly as they started."
Washington Post columnist E.J. Dionne then likened Romney to a car salesman, accusing him of selling himself as either a right-winger or a centrist depending on the needs of his consumers, the Republican electorate.
The panel then battled over whether Romney has been truthful in his retrospective views on whether he was for or against the auto bailouts; and whether the president deserves credit for "saving" the American car companies. "[Romney] said you can kiss the automotive industry goodbye if Obama goes with the plan he went with," Maddow said. "It was a success. Mr. Romney is trying to deny he was against it and trying to take credit for it."
Watch below, via NBC:

— —
>> Follow Andrew Kirell (@AndrewKirell) on Twitter
Have a tip we should know? tips@mediaite.com