Maddow: Boehner's Speakership Has Devolved Into 'Chaos' And 'Outright Defiance Of His Leadership'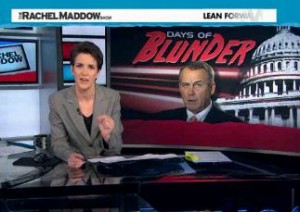 House Speaker John Boehner has not had a very good couple of weeks. He came under fire a few weeks ago for the unexpected rejection of the GOP's own fiscal cliff "Plan B" in the House by his own party, and today prominent Republicans were piling on him for the delayed vote on Hurricane Sandy relief aid. On the eve of his expected reelection for the speakership, Rachel Maddow summed up Boehner's first congressional term as Speaker as a chaotic mess that led to "outright defiance of his leadership" by members of his own party this week.
RELATED: After Onslaught Of Public Criticism, Boehner Reschedules Sandy Relief Vote For Friday
After highlighting the odd factoid that Dick Armey did an interview this past year in the midst of a Wii Fit workout, Maddow noted that Armey was the number two Republican in the House when Newt Gingrich was the Speaker of the House and, consequently, when he was removed from that position. Maddow said that Republicans seem to have a pattern of pulling the rug out from under their Speakers when the time is right, while there are no reported instances of this in the Democratic party to date.
Which brings us back to Boehner. Tomorrow he is expected to easily win reelection to the speakership, but as Maddow pointed out, it won't come without some problems, offering a damning summation of his leadership in the past two years.
"The speakership of John Boehner has been chaotic from the beginning, but it has now devolved into outright defiance of his leadership, outright derision against him from his own side, his own plan to avert the fiscal cliff wiped to the floor…"
And, Maddow continued, under Boehner's leadership Congress has not even been able to pass previously non-controversial legislation, such as the farm bill and the Violence Against Women Act. And then there's the hurricane relief bill. With so many Democrats and Republicans publicly blaming Boehner for the failure of the bill to be brought to a vote Tuesday night, Maddow could only describe it as "chaos" for the speaker.
Watch the video below, courtesy of MSNBC:
—–
Follow Josh Feldman on Twitter: @feldmaniac
Have a tip we should know? tips@mediaite.com
Josh Feldman - Senior Editor