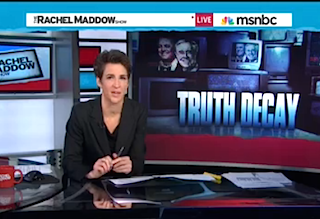 Rachel Maddow ended her MSNBC show Tuesday night by reporting the news that Republican David Jolly had defeated Democrat Alex Sink in a special congressional election in Florida. Maddow used the story as a jumping off point to examine the new burst of ads aimed at bolstering Republicans in the 2014 midterms, many of which are being funded by David and Charles Koch.
"Most people competing in normal American political terms have to wait until they're within a few weeks or months of their election before they start buying tens of millions of dollars of TV time to try to influence that election," Maddow said. But, "if you are the Koch brothers, say, well then time is money and you've got all the money."
Maddow played one "tough" and "riveting" ad paid for by Americans for Prosperity, which in turn is backed by the Koch brothers, that tells the story of an leukemia patient whose health insurance policy was canceled due to the Affordable Care Act.
Of course, as we reported earlier today, that ad was awarded three Pinocchios by Washignton Post fact checker Glenn Kessler when he discovered that the woman's new plan actually saved her $1,200/year and allowed her to keep her doctor.
Maddow commended Senator Mark Begich (D-AK) for standing up to the Kochs with his own ad countering their false claims, but worried that Democrats would never be able to keep up with their spending level through November.
"Can they do this everywhere?" she asked. "Because the Kochs are playing everywhere. That's the game now. That is 2014."
Watch video below, via MSNBC:
Visit NBCNews.com for breaking news, world news, and news about the economy
[photo via screengrab]
— —
>> Follow Matt Wilstein (@TheMattWilstein) on Twitter
Have a tip we should know? tips@mediaite.com