Maddow Compares Bush Library To Poop Cruise: Both Banking On 'Americans Having Short Memories'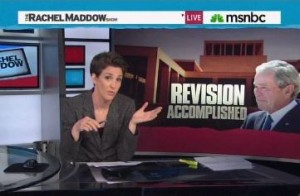 Rachel Maddow used a rather colorful analogy to sum up Thursday's events commemorating the opening of the George W. Bush presidential library. She reminded viewers of the infamous poop cruise that got CNN so worked up earlier this year, and pointed out how it didn't faze the cruise industry as all since they realized that "Americans have short memories" and will soon forget. Maddow surmised this has to be the reason why the Bush library is opening on the 10th anniversary of the now-infamous "Mission Accomplished" speech, because otherwise it's just some kind of bizarre inside joke.
RELATED: Lawrence O'Donnell & Co. Semi-Debunk George W. Bush Terrorism Revisionism Realism Schism
Maddow brought up how major players in the cruise industry brushed aside how the poop cruise would affect them financially, because virtually no one remembers the Costa Concordia disaster, and that happened just last year. Maddow compared this to Bush declaring the Iraq War to be over just weeks before it began, saying that the Bush team is banking on people not remembering that preemptive declaration.
Maddow highlighted Bush's media onslaught, consisting of an odd mixture of questions about his presidency and his painting, and an "in the family" interview he did with his former press secretary Dana Perino on Fox News.
Maddow played a clip of Bush's speech at the library today, in which the former president said that the United States must keep working to "expand the reach of freedom" in other nations. She concluded that opening the library on the Mission Accomplished anniversary is "either an inside joke" or some kind of "crisis management business school test."
Watch the video below, courtesy of MSNBC:

—–
Follow Josh Feldman on Twitter: @feldmaniac
Have a tip we should know? tips@mediaite.com
Josh Feldman - Senior Editor