Maddow: Concern About Drone Strikes Is Not About Killing Bad Guys, But 'Who's A Bad Guy?'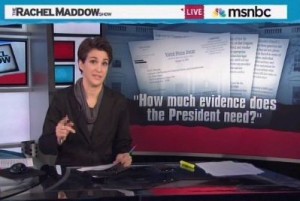 Rachel Maddow continued to carefully examine yesterday's publication of a Justice Department memo defending the legality of the United States government's drone strike program. Maddow explained that the objection to the program is not whether or not the U.S. should be taking out citizens tied to al-Qaeda, but the exact definition of "bad guy" and what legal requirements need to be fulfilled before the president can order a drone strike on a U.S. citizen.
RELATED: S.E. Cupp, Steve Kornacki Battle Touré For Defending Drone Strikes: 'That Was The Argument Under Bush'
Maddow summed up the information in the memo, namely that the Justice Department believes it is legal for an American citizen to be killed "on the president's say-so." She ran clips of Attorney General Eric Holder sidestepping the issue at a press conference. Maddow dryly mocked Holder's non-answers, interpreting his answers as "[these are] facts that I cannot tell you, so I cannot reference them because I cannot tell you them but they are facts."
Maddow then brought up a letter signed by eleven senators sent to the Obama administration voicing serious concerns with the DoJ memo. Deflecting any potential arguments that critics of the drone program are soft on terror, given that the most prominent American citizen killed by drone strikes was tied to al-Qaeda, Maddow explained exactly what people find objectionable about the drone program.
"With some exceptions, the broader moral and political and legal issue here is not an issue with U.S. forces killing bad guys. The issue here is 'Who's a bad guy?' and how do you figure it out."
Maddow said people need to know exactly which evidence and under what specific legal circumstances the president is able to order the death of an American citizen. She wondered if the news would be dealt with before the confirmation hearings of CIA director nominee John Brennan on Thursday.
Watch the video below, courtesy of MSNBC:
—–
Follow Josh Feldman on Twitter: @feldmaniac
Have a tip we should know? tips@mediaite.com
Josh Feldman - Senior Editor