Maddow: Conservative Groups Funneled Millions Into 2012 Race And Have Almost Nothing To Show For It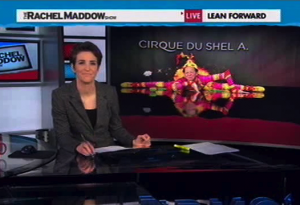 One detail of the 2012 election race that has been of much talk on both sides has been the rising influence of money in politics. Conservative groups and individual millionaires gave quite a bit of money to Republican candidates in the 2012 cycle, and as Rachel Maddow pointed out tonight, most of their picks ended up losing. Republican candidates supported by wealthy billionaires lost their races, and Maddow concluded that all of the outside money in the race "was not money well spent."
RELATED: Maddow Slams Romney Campaign's Secrecy Regarding Campaign Bundlers
Maddow reminded viewers of the game-changing Citizens United ruling, before pointing out that the vast majority of the outside money spent in the 2012 race came from conservative groups, outspending groups 3 to 1. But for all the liberal worry and conservative excitement about how all the money on the Republican side would influence the race, Maddow noted that for the most part, none of it actually worked.
She brought up Karl Rove, whose Super PAC ran ads in support of a number of GOP candidates, none of whom won reelection. And all eleven Democratic targeted for defeat by the Chamber of Commerce secured victories last night, though one of the Republican candidates they supported did end up winning.
But what of the wealthy individuals who threw money into the race? Billionaire Sheldon Adelson lost first backing Newt Gingrich then Mitt Romney, and didn't even get Romney to score a victory in his own state of Nevada. Meanwhile, the Koch brothers threw a lot of cash into the race as well, but Maddow said the math showed "it was not money well spent."
Overall, Maddow concluded, it was a giant waste of money, and she wondered what these individuals and groups would do if they got the money back somehow.
Watch the video below, courtesy of MSNBC:
—–
Follow Josh Feldman on Twitter: @feldmaniac
Have a tip we should know? [email protected]
Josh Feldman - Senior Editor