Maddow Eviscerates GOP's Obsession With Sodomy, Voodoo, Satanism: 'This Is What Party Is Like Right Now'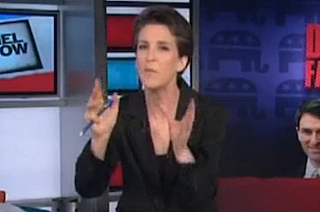 Rachel Maddow, who has been uncompromising in her pursuit of the Virginia Republican Party's radical turn, brought good news and bad news from Richmond: their candidate for lieutenant governor no longer believes yoga is the work of Satan, but their candidate for attorney general wants miscarriages reported to the police and their new head of African American outreach believes voodoo causes earthquakes.
The Virginia Republican Party skipped its primary for state offices this year, choosing instead to hold a convention where only the most hardcore of Republicans were allowed to pick their candidates. The first result of this process was the nomination of E. W. Jackson for lieutenant governor. Jackson has come under national scrutiny for his statements about race, homosexuality, and Obama's Muslim view of the world. He also believes yoga leads to Satanism and unholy lifestyles cause birth defects, ideas laid out in his book Ten Comandments to an Extraordinary Life—the misspelling is on the cover.
On Thursday, in his first press conference since being nominated, Jackson attempted to walk back some of his more head-turning beliefs. "I do not believe birth defects are caused by parents' sin, and I do not believe that yoga leads to Satanism," Jackson confirmed to a room made up mostly of his own staff.
But Jackson isn't the Virginia GOP's only blight. "The man who Republicans picked to be the running mate of both of those guys, Republican candidate for attorney general, turns out he's kind of amazing, too," Maddow said. "He's best known for his proposed legislation that any woman in the state of Virginia having a miscarriage must by law report that miscarriage to the local sheriff within twenty-four hours—in case the sheriff wants to investigate the miscarriage. Or something."
It doesn't stop there. The new head of African American outreach in Virginia is Reverend Joe Ellison, Jr., who vocally supported Pat Robertson's theory that the Haitian practice of Voodoo brought on the country's horrific 2010 earthquake.
These candidates aren't just problems for their own campaigns, but for gubernatorial candidate Ken Cuccinelli, who's trying to soften his own hard-right image, and the GOP in general, Maddow argued:
"This is really is what the Republican Party is like right now. Even after the 2012 elections, and the supposed nationwide tip-to-tail diagnosis that the party needed to re-brand, maybe take it a little easy on the fire and brimstone hot sauce, at least for the next few elections—even after all of that, this is who they are. They are more like this now than they were last year, and than they were the year before that. This is not the Beltway-narrative media about what's going on in American politics right now, but it is exactly what is going on, if you watch how they behave and who they are and what they say in public."
Sure enough, the House GOP is trying to pass a nationwide abortion ban. Trent Franks, who proposed the bill, said during debate that "the incidents of rape resulting in pregnancy are very low," a comment that is having Todd Akin-like repercussions.
"To be fair the context in which he was making that point was that he was just trying to explain that he does not care if you're pregnant because you have been raped!" Maddow said. "He will still force you to go through childbirth against your will after twenty weeks, no matter what. He will decide for you."
Meanwhile, a number of national GOP figures are meeting at a Christian Coalition conference in Washington this weekend, where the featured speaker is—wait for it—E. W. Jackson.
Watch the segment below, via MSNBC:
—
>> Follow Evan McMurry (@evanmcmurry) on Twitter
Have a tip we should know? tips@mediaite.com