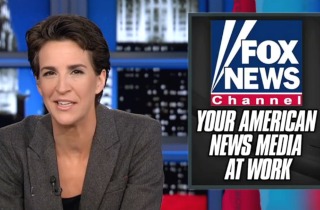 Rachel Maddow went after Fox News earlier this week for how it's been handling the allegations against Bill O'Reilly, and she kept going Friday night, practically laughing out loud at Fox just touting O'Reilly's ratings.
After Maddow's segment earlier this week saying Fox responded to their requests by touting those ratings, Fox News gave a statement to Mediaite saying Maddow "completely misrepresented" Fox's communication with them and they provided her with a network statement, some information about the previous stories they got inquiries about, and the reason they provided Maddow with the ratings numbers was to show how his numbers have gone up, despite the controversy.
RELATED: O'Reilly: MSNBC 'Collapsing' Because of Its Constant Lecturing
Maddow read the Fox statement to Mediaite last night and said she recalled their communication accurately, and was a bit astonished at how they're using that as a strategy to deflect criticisms about O'Reilly's claim that he was there at the time a CIA asset connected to the JFK assassination committed suicide.
She continued to hammer Fox for giving her "no substantive response" to those allegations and argued it's hard for the network to be taken seriously as a news organization if it keeps doing so. Maddow added, "If their defense is that it's okay if they lie on the air as long as it rates, this cannot hold."
Fox has continued to stand by O'Reilly, providing several statements on the matter (along with some from O'Reilly himself), including one denouncing the "orchestrated campaign by far left advocates" against him.
Watch the video below, via MSNBC:
[image via screengrab]
— —
Follow Josh Feldman on Twitter: @feldmaniac
Have a tip we should know? tips@mediaite.com
Josh Feldman - Senior Editor