Maddow Goes After The Half Of American Politicians Who Live In An 'Evidence-Free Right-Wing World'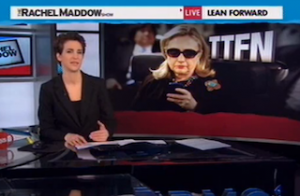 Rachel Maddow said goodbye (or TTFN) to Hillary Clinton on the departing secretary of state's final day in office Friday night. Looking at an exit interview Clinton gave to the AP in which she said it was "regrettable" that her Benghazi critics on the right "will not live in an evidence-based world," Maddow delved deeper into the GOP's conspiracy-based reality.
"Hillary Clinton there talking about the conservative effort to treat the attack on the U.S. consulate in Benghazi as not just an attack on our consulate, but as some sort of Obama administration conspiracy, or at least scandal," Maddow said, before ticking off some other Clinton-centric conspiracies recently floated by Senators Lindsey Graham (R-SC) and Rand Paul (R-KY).
Paul, who perhaps has the distinction of hitting Clinton the hardest in her Senate hearings last week has been pushing his theory that the U.S. had some hand in transfer of weapons from Libya to Turkey.
"According to Senator Rand Paul," Maddow explained, "the secret key to understanding what happened to Ambassador Chris Stevens in Benghazi is that a ghost secret boat full of weapons was leaving Libya for Turkey. And so the ambassador had to be killed to cover that up? Maybe? Because CIA helicopters, boats, ghosts, I don't know."
Maddow then went after the conservative magazine World Net Daily (current cover story: "Obama's Muslim Childhood) with which Rand Paul shared his Turkey theory. This in turn brought Maddow another one of the right-wing's latest obsessions. "Did you hear about the horrible Obama Muslim Kenya Marxist thing about Ronald Reagan's boyhood home?" Maddow asked, before showing reports on the story that Reagan's former Chicago home could be the site of Obama's presidential library.
To Maddow, this was just another example of the "evidence-free right-wing world." And when Fox News is reporting on the Reagan home story as part of their "straight news" and Republican senators are giving exclusive interviews to World Net Daily, "this is their world, this is not the fringe."
"The evidence-based world is a hard enough place to live and to operate for us as a nation," Maddow continued, "without half of our domestic politics being dominated by the perceived desire to defend against the Muslim Obama jihad on the child Reagan home." Maddow concluded the segment by proposing a question: "Are we hampered as a nation in our ability to address real problems in the evidence-based world if half of the people in politics do not live in that world?"
—
>> Follow Matt Wilstein (@TheMattWilstein) on Twitter
Have a tip we should know? tips@mediaite.com