Maddow Hammers Paul for Trying to Make Plagiarism Story About Her: 'Good Luck, I Can Take It'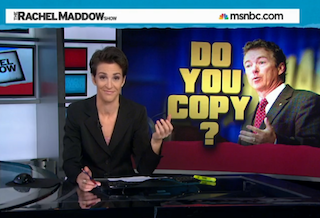 The war of words between MSNBC's Rachel Maddow and Sen. Rand Paul (R-KY) raged on Friday night, as Maddow was forced to defend herself against accusations of plagiarism after exposing Paul for lifting portions of recent speeches from Wikipedia. "You can try to make this whole problem for yourself about me, try to make me the story," Maddow said defiantly. "Go for it. Good luck. I can take it."
Maddow accused Paul of using the same "I'm rubber, you're glue solution" used by Mitt Romney during the 2012 presidential campaign. Just as Romney tried to turn his own running mate's anti-Medicare record around on President Obama, "sources close to Rand Paul" are now attacking Maddow via right-wing websites like Rare.
"In politics, this is a classic," Maddow said. "When you're getting attacked for something, just accuse your opponent of being guilty of the same thing. Whatever the attack is, if it's sticking to you, just apply those words in a substantively meaningless way to whoever's saying it about you, so at least it starts to seem confusing to people or the words lose their meaning."
But if Paul wants to use this strategy to deflect the charges against him, Maddow said, he will have to apply it to more people and organizations that just her. "There's more people that me who have reported this factual, checkable information about what you've done wrong," Maddow said, "that you still haven't owned up to, you still haven't apologized for and you still haven't said you will fix."
The host pointed to articles from BuzzFeed and POLITICO that highlight additional instances of Paul plagiarizing not only Wikipedia but also the Associated Press.
"This is called running from your mistakes," Maddow said of Paul's response to the accusations. And since he has refused to "own up" to his errors, Maddow said, "it is now going to require more of an explanation."
Watch video below, via MSNBC:
[photo via screengrab]
— —
>> Follow Matt Wilstein (@TheMattWilstein) on Twitter
Have a tip we should know? tips@mediaite.com