Maddow: Instead of Apologizing, Rand Paul Is 'Melting Down' Over Plagiarism Scandal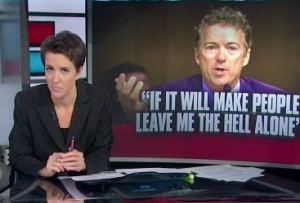 It appears Rachel Maddow is not going to let up on Rand Paul any time soon. After first breaking the news of his plagiarism off Wikipedia, Maddow has kept on hammering Paul almost every night about his inability to own up for what he did, and on Wednesday night Maddow realized the reason Paul's been reacting so poorly is because he is just incapable of handling any criticism well.
Paul's most recent comments came in National Review, when he said "it annoys the hell out of me" and took a swipe at Maddow and the other journalists going after him by saying "if I were their journalism teacher in college, I would fail them." Maddow concluded that rather than just accepting he was wrong and moving on, Paul is "melting down over this issue."
And he's doing so to the point where he's "threatening to quit and leave politics altogether" if people keep annoying him about it. Maddow said, "He can't handle criticism of things he has done wrong," and argued this is a good thing to know now if he's planning on running in 2016.
"If this is the way he handles pressure, that is probably a good thing to know about him now. It is probably better that we learn that fact about him now, rather than some time in the future."
Watch the video below, via MSNBC:
Visit NBCNews.com for breaking news, world news, and news about the economy
[photo via Screen grab]
— —
Follow Josh Feldman on Twitter: @feldmaniac
Have a tip we should know? tips@mediaite.com
Josh Feldman - Senior Editor