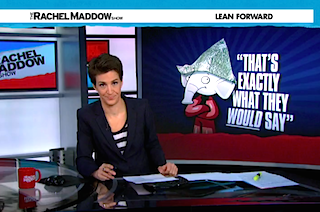 The odd conspiracy theories surrounding the Jade Helm 15 military training operation set to occur in Texas this summer have captured the attention of Republicans from that state including Sen. Ted Cruz, Gov. Greg Abbott and Rep. Louie Gohmert. Meanwhile, the Pentagon, Wal-Mart and even former Gov. Rick Perry (R-TX) have all done their best to put rumors of a hostile takeover of Texas to rest.
On Wednesday night, Rachel Maddow took one of her deep dives into this conspiracy theory and its origins, attempting in the process to get to the bottom of why certain Republican presidential hopefuls seem so eager to embrace it.
"This is one of those issues that is hilarious to the real world but is totally serious business in Republican world," Maddow noted. "And for most Republican politicians, particularly those competing for the Republican presidential nomination, where only Republican base voters will decide who's allowed to run, if you have a choice between seeming insane to normal people and seeming righteous to the base, which are you going to pick?"
"There's an incentive to pick seeming righteous to the base even if it is seeming nutty to everybody else," she concluded.
While "Jade Helm panic" is "hilarious and ridiculous to most of the country," Maddow predicted that it is not going way any time soon because it is still very "real on the right."
Watch the full segment below, via MSNBC:
[h/t Huffington Post]
[Photo via screengrab]
— —
>> Follow Matt Wilstein (@TheMattWilstein) on Twitter
Have a tip we should know? tips@mediaite.com