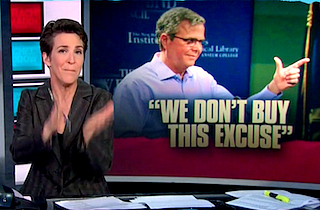 Rachel Maddow was a bit befuddled Tuesday evening at Jeb Bush's decision not just to skip the Iowa Straw Poll but announce that decision three months ahead of time, giving his "backhand" to Iowa Republicans time to sink in.
It's a move indicative, according to Maddow, of Bush's "terrible campaign," especially given that Bush made it in amidst bipartisan bad press over his Iraq War comment.
"Amidst all that mess today, amidst him just getting destroyed — not just by the mainstream press or by liberals but conservatives, too — in the middle of that today, Jeb Bush surprised everybody by deciding to go out of his way to tell Iowa that he had better things to do than to go to their precious little straw poll, which doesn't take place until three month from now," Maddow said.
The Iowa Straw Poll is hardly a requirement of GOP candidates, but can help shore up conservative and evangelical support in the crucial primary state. Bush has been polling poorly in Iowa and has shown no real interest in competing there.
"Jeb Bush by all accounts is supposed to be the frontrunner for the Republican presidential nomination for 2016," Maddow continued. "Jeb Bush not only has terrible numbers with likely Republican voters, Jeb Bush is, surprisingly, running a terrible campaign so far. He is running a campaign so terrible that even his would-be friends in the conservative media seem unable to save him from himself at this point. I did not see this coming."
Watch the clip below, via MSNBC:
[Image via screengrab]
——
>> Follow Evan McMurry (@evanmcmurry) on Twitter
Have a tip we should know? tips@mediaite.com