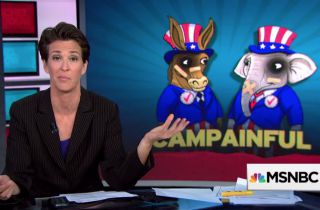 Rachel Maddow on Thursday night relentlessly mocked CNN for its format for next week's Republican presidential debate, equating the network's criteria to something she would instead expect to see from Fox News.
Just before Maddow's show went live, CNN announced the candidate lineup, showing which contenders polled strongly enough to make it onto the main primetime stage and who will would be relegated to the "kids table." After receiving backlash from Carly Fiorina — who enjoyed a boost in the polls following her strong performance in the first "happy-hour" GOP debate hosted by Fox last month — CNN amended its criteria to include Fiorina in the debate, which will take place next Wednesday at the Ronald Reagan Presidential Library in Simi Valley, Calif.
"I believe that was a ridiculous decision," Maddow said of Fox's choice to demote lower-polling candidates out of primetime. "And they taped the kids table in an empty arena. They kept showing, in all of their camera angles, how empty the arena was. This was a really big insult to all those candidates."
The MSNBC host then went after CNN for "sticking with" Fox's format, and later deciding to change the rules to include Fiorina, increasing the number of candidates participating in the main debate to 11. The new calculation method that CNN decided to use for polling, Maddow said, means Fiorina actually ranks 10th and New Jersey Gov. Chris Christie is in 11th.
"That same rule change that let Carly Fiorina into the debate should have pushed Chris Christie out of the debate, since now, under their new rules, he's not a top-10 candidate, he's number 11," Maddow said, continuing to mock CNN for its decision-making process. "… It's one thing for Fox to kind of fudge this because you think, 'Oh, Fox is a Republican organization, they have someone who they want to win and they'll run things in a way that allows that person favorable treatment.'"
Maddow added: "For CNN to do this? It's just — it's worse than catch-as-catch-can. I won't say what I really think it is. I find it amazing that this is the way that any major political party is picking their presidential candidate this year. It's a total mess."
Watch the video below, via MSNBC:
[Image via screengrab]
— —
>>Follow Andrew Desiderio (@desiderioDC) on Twitter
Have a tip we should know? [email protected]