Maddow Mocks Tea Party 'Rebuttal To The Rebuttal' To State Of The Union: 'What Could Possibly Go Wrong?'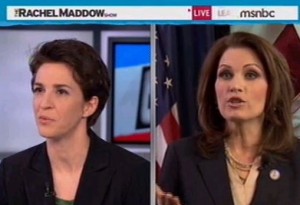 After giving a brief history of the State of the Union, beginning with the Constitution and George Washington, Rachel Maddow arrived at a more modern tradition: the Tea Party rebuttal.
Maddow described how the Republicans originally came up with the idea of the opposing party giving a rebuttal speech to the State of the Union back in 1966 and has since become almost as much of a hallowed tradition as the president's speech itself.
Discussing the responsibility of the person picked to deliver the response, Maddow said, "You alone are responsible for embodying and articulating your own party's coherent unified alternative to what the country has just heard from the president." She then added, "Or at least you used to be. Because now Republicans have come up with yet another innovation for this most ancient American political ritual."
As the Tea Party Express announced last week, Sen. Rand Paul (R-KY) will be delivering the official Tea Party response after Sen. Marco Rubio (R-FL) delivers the official Republican response. Yes, Maddow confirmed, the Republicans "have come up with a new idea. The idea of doing not just a rebuttal to the president's State of the Union address, but also a rebuttal to their own rebuttal… What could possibly go wrong?"
Maddow proceeded to go through the short history of the Tea Party rebuttal, imitating Michele Bachmann's off-center gaze from 2011 and playing one of the more ridiculous quotes from 2012's Herman Cain.
She noted that while Paul has been picked for this year's honor, "the official Republican party response will be delivered by another guy who we are told is a Tea Party senator, Marco Rubio. But Marco Rubio is giving the Republican response and Rand Paul is giving the Tea Party Republican response to the Republican response."
Maddow summed up this Republican dilemma by imagining what a typical GOP voter watching Tuesday night's proceedings will make of the whole "rebuttal to the rebuttal" phenomenon:
"It is hard to tell at this point whether or not the Republican party still has the wherewithal to be annoyed at its own members being this self-serving, whether or not they care. This throws kind of a wrench in the works, right, in terms of the Republican party's efforts to portray itself as having a coherent, unified alternate vision to what President Obama is offering. I mean if you like an alternative vision that is presented after the State of the Union this year, which one do you pick? If you're in the market for a Republican message, which one is being offered? And then how do you demonstrate that you like that message? How do you vote? What do you do?"
Watch video below, via MSNBC:
—
>> Follow Matt Wilstein (@TheMattWilstein) on Twitter
Have a tip we should know? tips@mediaite.com