Maddow: NRA Ad Attacking Obama Is Latest Example Of Right-Wing Media 'Trolling'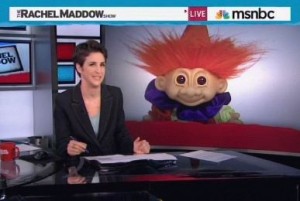 Rachel Maddow took on the art of conservative trolling on her show tonight, arguing that many of the most prominent voices in right-wing media circles are not serious thinkers, but simply trolls out to say provocative things in order to garner the ire of the mainstream media and the support of their fanbase. Maddow said that the National Rifle Association jumped on the trolling bandwagon when it decided to make a video going after Obama and featuring clips of its harshest detractors.
RELATED: Morning Joe Panelist Calls NRA Attack Ad On First Daughters 'Pornography'
Maddow broke down the concept of trolling for her viewers as an act with the express purpose of trying to get a rise out of someone by saying or doing something that is intentionally stupid or offensive, and said that quite often, "you know it when you see it." She ran a number of clips from conservative pundits and radio hosts to make her point that trolling is a major part of the conservative media entertainment business model. They have no interest in converting people, they just want to say provocative things and get media attention for it.
Maddow highlighted a business owner who's making liberals pay more as an example of this "tried-and-true schtick." She cited both Ted Nugent and Donald Trump as examples of powerful trolls, but even more noticeably, by Maddow's observation, there are a number of Republican trolls in Congress.
But the true genius of the trolling, as Maddow pointed out, is that it's specifically targeted to people who love it whenever the media tries to attack a prominent conservative. They love "deliberately causing" such national disruptions, but Maddow warned against trying to think of any of these people as responsible thinkers. And then there's the NRA ad calling Obama an "elitist hypocrite" for wanting to take away guns when his own children have armed guards. Maddow said it's a clear sign of trolling because the extended video spends an entire minute on clips of people criticizing the NRA.
"If you have to troll for it, if you're going for purposeful outrage and nothing more serious than that, it is also pretty good evidence that you are really not all that relevant to the discussion the adults are having."
Watch the video below, courtesy of MSNBC:
—–
Follow Josh Feldman on Twitter: @feldmaniac
Have a tip we should know? tips@mediaite.com
Josh Feldman - Senior Editor