Maddow Parses The 'Lunacy' Of GA Republicans Holding A Seminar On Obama's Evil Mind Control (Seriously)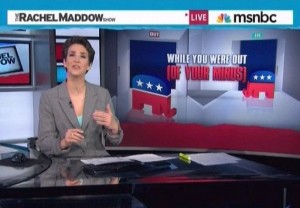 Sometimes you wonder exactly when politicians are finally going to scrape the bottom of the barrel of crazy conspiracy theories. Well, if you thought birtherism was the the low point, wait until you hear this. A group of state legislators in Georgia held a seminar in which they seriously discussed a mind control program being implemented by the Obama administration. Yes. Seriously. Rachel Maddow couldn't believe it either, and tried to figure out exactly why there are such crazy people in positions of power in the Republican party.
RELATED: British Town Elects New Councilman, Realizes He Thinks His Mom Is A 'Nine Foot, Green Alien'
Maddow turned to the whole "mind control" thing as something that could potentially be good news for the country. Yes, a number of state Republicans in Georgia are seriously discussing the idea that the Obama administration is using a mind control technique developed during the Cold War because they hate freedom or something.
Maddow gleefully showed video of the event, which compared Obama to both Stalin and Mao, continuing to remind viewers that this was an actual meeting held by actual leaders of government in Georgia, including the Republican senate majority leader. However, Maddow pointed out that this particular individual quickly lost his title after the news became national.
But then Maddow highlighted a statement by the Maine Republican party chairman saying he would look into the "dozens of black people" who voted on election day, which he believed was suspect, because "nobody in town knows anybody that's black." But the true icing on the cake was his explanation, in which he said he can't possibly be racist because he frequently "play[s] basketball every Sunday with a black guy."
He eventually apologized, but Maddow said it was part of a recurring trend that while people might be out of their freaking minds, but you don't want someone like that in a position of political power.
Watch the video below, courtesy of MSNBC:
—–
Follow Josh Feldman on Twitter: @feldmaniac
Have a tip we should know? tips@mediaite.com
Josh Feldman - Senior Editor