Maddow Predicts Doomsday For GOP: Gay Marriage Rulings Will 'Come Crashing Down On Republican Party'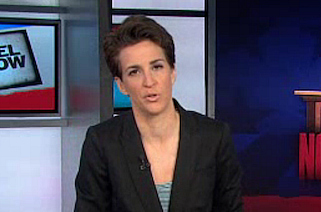 "In Republican world, it is a very different world than the rest of us are living, when it comes to The Gay," Rachel Maddow said in a blistering segment taking the mainstream GOP to task for their ossified position on homosexuality.
Whereas the country is rapidly moving in favor of gay marriage—Maddow referenced a poll showing a 57/40 divide in favor of legalizing same-sex marriage—Republicans gathered at the Faith and Freedom Coalition in Washington DC this weekend, which is just Ralph Reed's Christian Coalition 2.0, where they reaffirmed their opposition to any form of gay rights.
But the MSNBC host says their staunch refusal to liberalize on gay issues is about to be tested in two different ways: when the Employment Non-Discrimination Act comes up for a vote in the Senate, and when the Supreme Court hands down its ruling on the Defense of Marriage Act and California's Proposition 8 sometime in the next two weeks.
"Republican politicians are about to lose the luxury of only talking about gay rights in front of anti-gay audiences like the Faith and Freedom Coalition, or avoiding the question altogether because they don't want to be quoted about it because their Republican position on the subject is so unpopular," Maddow said.
ENDA just got its fiftieth sponsor in Harry Reid, which in a normal world would make it certain to pass but in the current Senate makes it ten votes shy of breaking a GOP filibuster. Maddow pointed out that it's even earned the support of more conservative Democrats and Independents like Angus King (I-MN) and Heidi Heitkamp (D-ND). Yet not only are more high-profile conservatives like Marco Rubio literally running from the issue, but even Rob Portman, who recently came out in favor of same-sex marriage after learning his son was gay, won't support it.
"So he is okay for marriage rights for his son, but not for nondiscrimination?" Maddow asked. "'I'm okay with you being forced out of your job, son, because of you who are, I just don't want you to go through it alone? If you're married, you can both be fired for being gay, together!' How does that make sense?"
"Nobody who has any real prospects of being a national leader in Republican politics in the next few years has anything other than a 100% anti-gay policy position on something like nondiscrimination," Maddow said. "That is apparently still a requirement if you are a Republican and you want to hold higher national office."
That stubbornness is "going to come crashing down on the Republican Party," when the Court rules on gay marriage soon.
"After these rulings come out, this is going to be the biggest news in the country," Maddow said. "They're going to have to talk to the rest of the country, too, increasingly not only against them on these issues but bewildered by them and their positions on these issues."
Watch the segment here, via MSNBC:
—
>> Follow Evan McMurry (@evanmcmurry) on Twitter
Have a tip we should know? tips@mediaite.com