Maddow Presses New MSNBC Analyst Robert Gibbs On His Shocking Drone Admission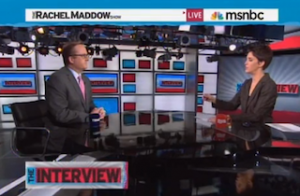 Before welcoming her guest Former White House Press Secretary Robert Gibbs onto her show Monday night, Rachel Maddow played a clip from a bombshell interview Gibbs gave to her MSNBC colleague Chris Hayes Sunday. Maddow began her interview with Gibbs by asking, "Why were you told that you can't acknowledge the existence of the [drone] program?"
Gibbs did not quite answer that question directly, besides stressing the "highly classified" nature of the drones program. But he did say that CIA director nominee John Brennan was one of the first to acknowledge that it was "not sustainable" for journalists to read (or write) about drone strikes that are killing terrorists, but not be able to get any answers about the program from the press secretary. "Some transparency absolutely had to take place," he asserted.
When Gibbs described all the American lives drone strikes have saved and the damage it has done to Al Qaeda, Maddow pushed back, saying, "I don't think that is the controversial part of it." Rather, she said, the issue is that "we seem to be waging war with part of our country that isn't designed to be accountable to us as civilians for war-making." She added later, "I understand the argument for why missions have to be secret, why operations have to be secret. I don't understand why law has to be secret."
The most Gibbs could say was that "you will begin to see" the president and the CIA "lift the veil" on these operations moving forward. But he was not able to outline any specifics on timeline or details about how it exactly that will be done.
Gibbs, who recently joined MSNBC as a paid contributor, is evidently still trying to balance his role between his history as an Obama insider with the administration's best interest at heart versus his new role as a relatively unbiased commentator.
Watch video below, via MSNBC:

—
>> Follow Matt Wilstein (@TheMattWilstein) on Twitter
Have a tip we should know? tips@mediaite.com