Maddow Questions Miranda Rights Exception In Bombing Arrest: 'American Citizen Will Face American Justice'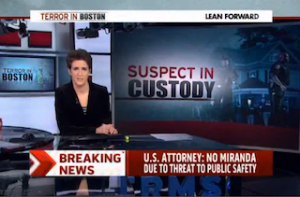 Friday night on MSNBC, after Boston Maraton bombing suspect Dzokhar Tsarnaev had been taken into custody alive, after the streets of Watertown erupted in celebration, after President Obama made public remarks about the arrest, Rachel Maddow went on the air for a late edition of her show to figure out why the suspect was not read his Miranda rights.
"There's a whole new chapter of the story beginning tonight, beginning right now," Maddow said, explaining to her viewers that authorities chose to use the "public safety exception" to deny U.S. citizen Tsarnaev his rights to remain silent, have an attorney present during question, and everything else that is typically afforded to alleged criminal suspects after they are arrested. She went on to explain that the suspect is not being treated as an "enemy combatant" and is on track to receive a "federal trial." "He is an American citizen and he will face American justice," Maddow declared, but at least for the time being, that means interrogators can question him before he is read his rights.
Maddow invited former U.S. Attorney Kendall Coffey to offer his expert opinion on the matter. Coffey acknowledged the political dilemmas the Obama administration faces when reacting in situations like this one. "The Obama administration is trying to demonstrate civilian tools are adequate and tough enough to make everybody safe," Coffey stated, but that has included extending the public safety exception for Miranda rights. He mentioned the "firestorm of criticism" Obama received after authorities read the Christmas Day underwear bomber his Miranda rights after only very briefly employing the exception. Coffey indicated that Obama intended to avoid such a reaction this time around.
Maddow added that the Obama administration is actively making it known that they will be acting tougher on terrorism suspects by putting out an "overt statement saying we are planning in advance to be so alarmed by having him in our custody once he can speak that we're going to extend the public safety exemption."
Coffey went on to explain that while this approach may receive some "criticism from liberals," what he believes the Obama administration is doing is saying, "we don't need to ship everybody down to Guantanamo" and by extending the exception they are able to "preserve the use of civilian jury trials and the basic constitutional protections even for terrorism cases."
As Maddow said, this new chapter of the Boston Marathon bombing story is just "beginning," and with the media able to move on from constant speculation about where and when the suspects will be found, they will surely move on to debating the ways in which the Obama administration and the rest of the U.S. government are treating the one remaining suspect.
Watch video below, via MSNBC:
—
>> Follow Matt Wilstein (@TheMattWilstein) on Twitter
Have a tip we should know? tips@mediaite.com