Maddow: Republicans Warning Of 'Devastating' Sequestration, But They're Saying 'Let's Do It!' Anyway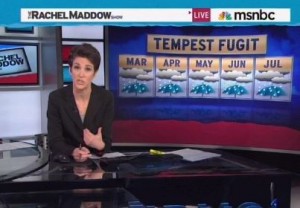 Rachel Maddow opened her show tonight using an extended metaphor to connect natural disasters and huge storms to political storms. Maddow argued that including the sequestration coming into effect today, there have been five separate political "crap storms" in D.C. since the Republicans took the House in 2011. Maddow called out the GOP for simultaneously bashing President Obama for allowing the "devastating" cuts to go into effect, while also acting like the cuts are a victory for their side.
Maddow took a page out of the Weather Channel's book and said that if Congress wants the rest of the country to take these storms seriously, they need simple, easy-to-understand names. The almost-government shutdown of April 2011? Maddow suggested "Aaron" as an alternative name. She ran down the list of all the other big political storms: the debt ceiling crisis, the other possible government shutdown of 2011, the fiscal cliff, and now sequestration. Or, as Maddow decided to call it, "Earl."
RELATED: Maddow Goes After The Half Of American Politicians Who Live In An 'Evidence-Free Right-Wing World'
Maddow argued the big problem with sequestration is that people don't know what exactly that word means, but also
"Earl, in fact, is supposed to be a damaging storm. Economically, Earl is expected to cost hundreds of thousands of jobs, jobs in every state in the nation. So far the Republican position on Earl is that it is going to be devastating, and also, woo! Let's do it, bring on Earl!"
Maddow showed how while Republicans are saying sequestration will "cut devastating segments of our economy," but on the other hand they are saying in private because this whole crisis is working out in their favor, with one Republican calling it a "big victory." Maddow made it clear sequestration was "purposely designed to be a bad idea," but now it's happening because people simply stopped being alarmed.
Maddow also called out the GOP for itching to kick off two more big storms: another potential government shutdown by the end of March, and another debt ceiling fight in May. She said they appear to already be "gleefully planning" the next crisis, asking what it means for the country when Congress is in a perpetual state of critical, devastating storms.
Watch the video below, courtesy of MSNBC:
—–
Follow Josh Feldman on Twitter: @feldmaniac
Have a tip we should know? tips@mediaite.com
Josh Feldman - Senior Editor