Maddow Rips Apart GOP On Gov't Shutdown: 'Elect Republicans and They Will Burn the Place Down'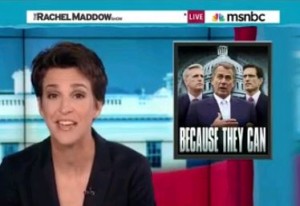 Rachel Maddow tore into Republicans for basically wanting a government shutdown the whole time they've controlled the House of Representatives. She pointed to the lack of any significant legislation passed since they took the House in 2010, noting that the lead-up to a government shutdown was inevitable. Maddow said, "Elect Republicans and they will burn the place down."
Maddow noted that since John Boehner became Speaker in the House, "there has not been a single significant piece of legislation enacted into law.
"otherwise occupied" with threatening to shut down the government, debt ceiling fight (credit downgrade), another gov't shutdown threat, yet more shutdown threats, fiscal cliff crisis, forcing another debt ceiling crisis, and now we are "due for that often-threatened Republican shutdown before tonight is through"
But these "failures of basic government" weren't accidents, they were byproducts of the way Republicans planned to govern in the first place.
Maddow ran the gamut from Lynn Westmoreland promising in 2010the GOP would push for a government shutdown if they took the House to John Culberson shouting a 9/11-referencing "Let's roll!" after a closed-door GOP meeting to make it abundantly clear that this was the endgame to begin with.
"There is a kind of palpable glee on the Republican side about this accomplishment that they are bringing about tonight. They are psyched. There is no mirror image between the two major parties. There is only one major party of the two that strives for control in government specifically because that is the place from which you can hurt government the worst…

"This is what Republicans want to do. This is what they promised to do. This tactic, 'let's roll', this tactic is an end in and of itself, and that is why there is no talking them out of it. Elect Republicans and they will burn the place down, and they will laugh while they do it and have a great time. And then what?"
Watch the video below, via MSNBC:
Visit NBCNews.com for breaking news, world news, and news about the economy
[photo via screengrab]
— —
Follow Josh Feldman on Twitter: @feldmaniac
Have a tip we should know? tips@mediaite.com
Josh Feldman - Senior Editor