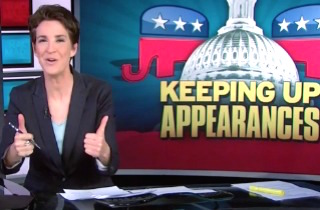 Rachel Maddow tonight was incredibly confused why Senate Democrats decided to hold a vote on the Keystone XL pipeline when it would accomplish nothing other than trying to help one of their own (Mary Landrieu) win her reelection race. And even that didn't get done, because they came up one vote shy of passing it.
To Maddow, this whole thing didn't make sense for a number of reasons. First, the incoming GOP-run Senate will be able to pass this no problem anyway, so again, it was literally all to save Landrieu. Secondly, Landrieu was likely to lose anyway. Thirdly, the House version of the bill she pushed was sponsored by her Republican opponent.
"What on earth were they thinking," Maddow asked incredulously, "spending their time doing this? How is this even, conceivably, by any stretch of the imagination, a constructive use of time by Democrats?"
The Keystone XL vote, she explained, accomplished two things: highlighting something the Republicans want highlighted, and showing that the Democrats can't get anything done even to save one of their own.
And most frustrating of all for Maddow was that the Democrats will hold a vote on this issue right away, but want to wait a while to hold a vote on confirming Loretta Lynch as the new attorney general. If they're honestly not worried about Republicans confirming her, Maddow said, "I would love some of what they're smoking."
She concluded by saying, "Democrats, you are amazing… You are astonishing. Now roll over and play dead."
Watch the video below, via MSNBC:
[image via screengrab]
— —
Follow Josh Feldman on Twitter: @feldmaniac
Have a tip we should know? tips@mediaite.com
Josh Feldman - Senior Editor