Maddow: Santorum Could Have Been GOP Nominee, Now He's Writing For WorldNetDaily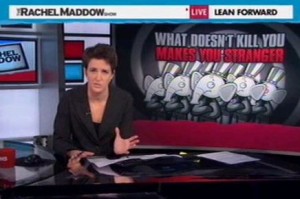 Rachel Maddow checked on the Republican party post-election and found not much of note. Top donors are meeting with GOP officials to understand exactly what went wrong, while the party's nominee is now considerably bored, but what intrigued Maddow the most was how a man who almost got the Republican nomination for the presidency is now going to be working as a columnist for a website known for touting ridiculous conspiracy theories about President Obama.
RELATED: Maddow Rips Into 'Right-Wing Version Of Reality' And Conservative 'Conspiracy Theories'
Maddow opened the segment by talking about New York football and how bad she thinks the Jets are. She pointed out that Jets owner Woody Johnson was a big Romney supporter, and attended a meeting with donors and RNC chairman Reince Priebus in New York today to talk about what went wrong in the campaign.
Maddow highlighted a voter recruiting effort in a number of crucial swing states that the GOP had to abandon weeks before the election with no Plan B in place. What amazed Maddow was that after such a big defeat and an embarrassing oversight on voter registration, Priebus is running for a second term as RNC chairman.
As for the former GOP presidential candidate, Maddow found Romney is back to basics and facing sustained boredom, while Rick Santorum, the man who almost beat him in the primaries, is joining WorldNetDaily as a columnist. You may know WND as a haven for some of the wackiest political conspiracy theories you can think of.
Santorum is very conservative, but Maddow couldn't help but wonder why a mainstream candidate who came very close to becoming the Republican candidate for the presidency is joining a site on which Obama has been accused of hiding a secret homosexual lifestyle.
Watch the video below, courtesy of MSNBC:
—–
Follow Josh Feldman on Twitter: @feldmaniac
Have a tip we should know? tips@mediaite.com
Josh Feldman - Senior Editor