Maddow Scorches Koch Brothers for Sending Her Legal Letter: I'm Not Reading Your Script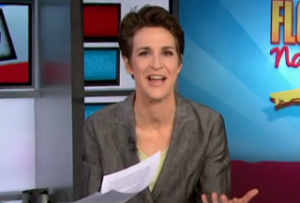 Rachel Maddow has spoken of her tussles with the Koch brothers on-air before, and last night she did it again with a blistering indictment of the legal letter sent to her on the Kochs' behalf to publicly correct a report she did on them. Maddow did a report this week on Florida's "drug test the poor" law (now on its way out) being tried in other states, partly at the urging of a conservative group that's part of a network that receives funding from the Koch brothers.
Maddow said, "Very frequently, when we cover the Koch brothers, we then hear from the Koch brothers' lawyer."
She showed the letter that the lawyer sent, including a script for her to read clarifying that they are "not involved in promoting any such issue." Maddow said quite sternly, "I'm not going to read their script. I'm not going to renounce my own reporting on this story, because the reporting on this story stands. It is true."
She found it amusing that the key objection is they don't want people to know about their political activities, and said that's not good enough to stop people from reporting negative things about them.
"We will not stop reporting on the political actions and the consequences of the political actions of rich and powerful men, even if they send angry letters every time we do it. I will not read scripts provided to me by anyone else. I do not play requests."
Watch the video below, via MSNBC:
[photo via ???]
— —
Follow Josh Feldman on Twitter: @feldmaniac
Have a tip we should know? tips@mediaite.com
Josh Feldman - Senior Editor