Maddow Shreds GOP Over Voting Rights: Are You Prepared To Destroy 'Cornerstone' Of Civil Rights Law?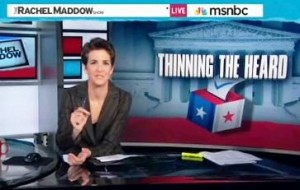 Rachel Maddow opened her show tonight explaining just how low the bar is for Congress getting something done these days, in order to give context to the "void" that the Voting Rights Act has been sucked into after the Supreme Court today struck down provisions of the landmark legislation. She brought up how while in the past, Republicans have found voting rights to be largely non-controversial, the GOP-led House hasn't yet indicated it's ready to act. Maddow asked Republicans if they're really prepared to go down this road and decimate "the cornerstone of American civil rights law."
She referenced the "death spiral of nonsense" that President Obama decided to bypass with his new climate change proposals today, but which also now will have to face the challenge of reconfiguring the formula the Supreme Court decided was outdated. Maddow blasted the Supreme Court decision and highlighted why the VRA provision that got struck down is still so important, saying that whereas the Department of Justice could block certain voting laws in states like Texas with the help of the VRA, now it cannot.
And now it's up to Congress to come up with a "new way of identifying places that need that special scrunity," and it's "open season on voting rights" until that gets done. Which brought Maddow to what the Republican-led House is going to do about it. She reminded viewers that the Voting Rights Act was previously so non-controversial, its reauthorization was supported by George W. Bush and there were zero "nay" votes in the Senate when it came up. However, there were 33 House Republicans who voted against it, and a bunch of them are still there.
She highlighted how Republican congressman Paul Broun tried to sneak in a bill to block the VRA from being enforced, but he was called out by civil rights icon John Lewis, and summarily apologized and withdrew his bill. For Maddow, this one brief moment is key in trying to figure out what the Republicans' next move is.
"So which is it now, Republican party? Are you Paul Broun, stuttering and apologizing and saying you never meant any offense? Taking it back? Or are you Paul Broun introducing a stealth amendment in the middle of the night trying to kill the Voting Rights Act? Are you every single Republican in the United States Senate voting to reauthorize the Voting Rights Act, standing proudly by… with your Republican president, as he signs it? Or are you the 33 House Republicans who that same year voted no, voted to kill the Voting Rights Act?"
She concluded, "This is the cornerstone of American civil rights law. This is legacy time. What are you guys going to do?"
Watch the video below, courtesy of MSNBC:
—–
Follow Josh Feldman on Twitter: @feldmaniac
Have a tip we should know? tips@mediaite.com
Josh Feldman - Senior Editor