Maddow Skewers Weiner 'Redemption Tour': He Lied, Apologized, Then Kept Lying! And He Used The Media!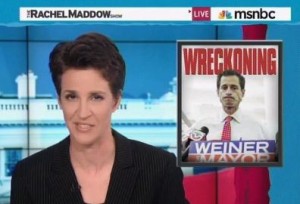 Rachel Maddow opened her show tonight going after Anthony Weiner with full force not for the sleazy behavior that he continued even after his initial sexting scandal brought about his political downfall, but for the conclusion it draws that he lied, consistently and boldly, to the public and the press, about how much of a changed man he is since he left office, and with these lies coming on the heels of what was supposed to be his honesty-filled redemption tour, it's hard to imagine how anyone could ever trust him again.
RELATED: Anthony Weiner's New Sexts Started A Week Before Big, Redemptive People Interview
Maddow noted how Weiner previously, obliquely suggested more sexts might come out, but no one imagined they were "online, no-pants exchanges that he was still having after he supposedly came clean and apologized and resigned from Congress." She slammed Weiner for his "redemption tour" that was premised on the idea that he learned from his mistakes, when in fact, he did absolutely no such thing. She asked, "Why would anybody ever believe him ever again?"
WNBC political reporter Melissa Russo told Maddow that apparently, Weiner's fall from grace was just "not important enough" to stop his sexting, but she added a lot of voters "simply do not care" about how sleazy he may be. Maddow said Weiner's behavior never bothered her, it was the constant lying, "over and over and over again, looking people right in the eye, including me personally" and telling very direct lies.
Russo recalled how Weiner attacked reporters when they dared question him, which led Maddow to wonder about how Weiner's new revelations may affect his relationship with the press.
"Part of the way he lied the second round of times is that he's doing this sort of redemption tour in the press where he's talking about what a changed man he is, and how he's totally focused on his family, and he's all about making apologies, while he's still continuing that behavior. So the press was really used by Anthony Weiner in order to convey the second round of lying."
Watch the video below, via MSNBC:
—–
Follow Josh Feldman on Twitter: @feldmaniac
Have a tip we should know? tips@mediaite.com
Josh Feldman - Senior Editor