Maddow Calls Out GOP: They Wanted Gov't Shutdown All Along and They Were 'Giddy' About It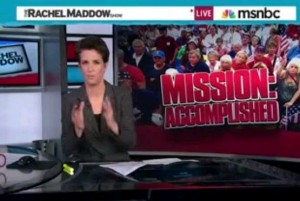 Rachel Maddow couldn't help but notice Tuesday night that far from being taken as a serious, grave issue that should have been avoided at all costs, a number of Republicans appear to be positively giddy at the idea of a government shutdown. Maddow cited case after case of Republican happiness about the negotiations getting to this point to prove that this was not a consequence of them getting what they wanted, it was what they wanted.
Report after report on Republican reactions have been using words like "giddy" and "happy," even Michele Bachmann saying she's "excited" about having reached this point. Maddow explained that "prominent voices on the right" were all hoping for this in 2010, when the GOP was poised to take the House.
They failed the first six times, and won on the seventh, and Maddow said they have no regrets at all about any of it.
"It can't be denied that a lot of Republicans in Congress now ran for Congress by promising their constituencies that if they got to Congress, they would use their power in Congress to shut down the government. And you can tell from the smiles on their faces 'mission accomplished' as far as they're concerned. Now that we are shut down, why do you think they are suddenly going to get embarrassed about this?"
Watch the video below, via MSNBC:
Visit NBCNews.com for breaking news, world news, and news about the economy
[photo via screengrab]
— —
Follow Josh Feldman on Twitter: @feldmaniac
Have a tip we should know? tips@mediaite.com
Josh Feldman - Senior Editor