Maddow Takes On White House Press Corps Over Complaints About Press Access To Obama
Maddow Takes On W.H. Press Corps Over Complaints About Press Access To Obama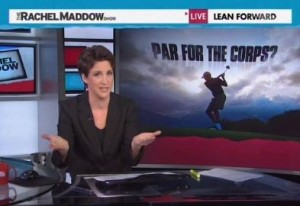 Rachel Maddow took on the controversy over President Obama cutting off access to the White House press corps during a golfing vacation. Maddow sympathized with the idea of a press corps being able to ask tough questions of a president, but said that more and more Obama is going to forums where he's able to take questions directly from the people, and getting seriously substantive questions.
Maddow first found it interesting that during a Facebook Q&A for Parents Magazine, Vice President Joe Biden actually got a lot of substantive questions about gun control, such as the need for armed guards at schools or assault weapons in homes, considering the actual content of Parents Magazine.
RELATED: Greta Blasts 'Pathetic' WH Press Corps For 'Caving' To Obama's 'Off The Record' Chat As Consolation For 'Golf-Gate'
Maddow then brought up the current press corps controversy, citing journalists whose complaints ran from "it's a disgrace" to presuming Obama is just "fearful of talking with them." She contrasted this with how open Obama has made himself directly to the people, on forums like Reddit, Twitter, and a Google+ hangout, and in these forums people actually ask substantive questions.
Maddow acknowledged the obvious need for a press corps, but said it's certainly a big deal for the nation's leaders to be "mingl[ing] among us without intermediaries." While people certainly want journalists asking tough questions of the president, she said there is "something important" in the distance between the kinds of questions journalists ask and the ones regular people ask. Maddow concluded, "It is worrying about the press corps that those two streams of questions being directed at the White House, from citizens and from the Beltway press, often seem like they are from two totally different universes."
Watch the video below, courtesy of MSNBC:
—–
Follow Josh Feldman on Twitter: @feldmaniac
Have a tip we should know? [email protected]
Josh Feldman - Senior Editor