Maddow Taunts Christie Over Special Election: 'There's An Outbreak Of Chicken' In The Governor's Office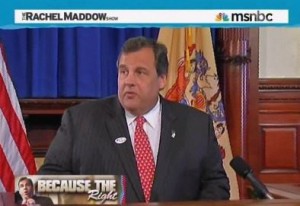 There was literally nothing New Jersey governor Chris Christie could have done in trying to deal with the Senate seat now vacated after the death of Frank Lautenberg that wouldn't have angered someone, but he pulled the trigger today and the result was an October special election that no one is happy about. Rachel Maddow thought Christie's attempt to keep the special election away from his own reelection in November could only mean one thing: he "chickened out."
Maddow first showed clips to remind viewers of Christie's "tough guy" image, contraremarking on the oddity of scheduling the special election for a Wednesday in October.
RELATED: 'Debilitating Stupidity' Or 'Political Genius'? Christie Provokes Opposite GOP Reactions From Armey & Bolling
Or, to put it another way, "there's an outbreak of chicken in the New Jersey governor's office."
Maddow said that instead of scheduling the special election for November, when his own name is on the ballot, or next November, "he chose neither. He took the escape hatch. Door number three, please!" Maddow noted how this will end up costing taxpayers millions of dollars in the end.
She repeatedly referred to Christie as a chicken, explaining that Christie may easily have feared higher Democratic turnout if the special election coincided with his reelection, considering the likely Democratic candidate is popular Newark mayor Cory Booker.
Maddow found Christie's move unbelievable, and concluded by calling Christie a chicken once more.
"There is nothing in New Jersey law that made him do this. He just chickened out. Amazing. And now, having chickened out, he gets to continue his re-election campaign to be governor again. His re-election campaign is running under this slogan: Strong Leadership. Wow. Strong, maybe, but also clearly afraid."
Watch the video below, courtesy of MSNBC:
—–
Follow Josh Feldman on Twitter: @feldmaniac
Have a tip we should know? tips@mediaite.com
Josh Feldman - Senior Editor